Ad blocker interference detected!
Wikia is a free-to-use site that makes money from advertising. We have a modified experience for viewers using ad blockers

Wikia is not accessible if you've made further modifications. Remove the custom ad blocker rule(s) and the page will load as expected.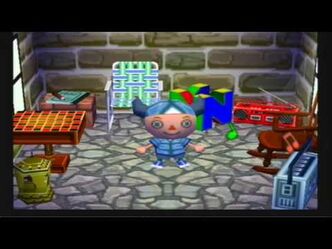 The
Aerobics Radio
is given to the
player
if they attended the
Morning Aerobics
and got their card stamped fourteen times in
Animal Crossing
. The first time the player attends the Morning Aerobics, they must speak with 
Tortimer
to receive a card and a stamp. Every morning they go, they receive a stamp from Mayor Tortimer. If they attend all fourteen days, they will get the Aerobics Radio that allows them to do Aerobics in their house. Only one radio can be on at a player's house, so if they turn the Aerobics Radio on, the other radio will turn off. The player can do the Morning Aerobics routine while the music plays. The song played was going to be in
Super Smash Bros. Brawl
, but it was cut out for an unknown reason.