This page is currently under construction.
Please help us expand this article by editing it.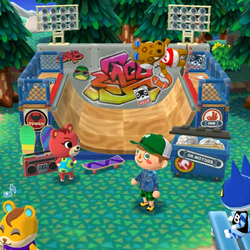 Amenities are constructions that can be placed in the campsite in Pocket Camp. Similar to public works projects in New Leaf, they are large, outdoor buildings. However, where the public works projects of New Leaf serve a decorative purpose, amenities are buildings that are fun and attract villagers to the campsite.
The Half-Pipe, Picnic Set, Tree Swing and Street Set can only be unlocked after creating the upgraded versions of the original tents, at level 3. After the third upgrade of any of the tents, those amenities can be created (in this case, unless a level 3 natural tent is created, a Picnic Set cannot be created). Alongside this, even better amenities can be created, only able to be created after the fifth upgrade of the latter version (with a level 5 Picnic Set, a Tree House can be created). The current known 3rd level amenity is the Tree House, which comes from the creation of the level 5 Picnic Set and level 3 Natural Tent, the Rock Stage, from creation of the level 5 Street Set and level 3 Cool Tent, and the Merry-go-Round, from creation of the level 5 Tree Swing and level 3 Cute Tent. The rest are to be discovered. (Upon inspection in the shop, the 3rd level amenities cannot be seen until the previous level amenities are bought).
Upgrading amenities increases a villagers max friendship, so a natural tent will increase the base max friendship level of 7 to 10 for all natural villagers. Upgrading also gives 5 friendship points to any villager who is at the unveiling party.
Crafting amenities
Name
Image
Requirements and materials
Crafting time
Reward for crafting
basic tent

Available from start
N/A
Max. Friendship Lv.: 7
merry-go-round

30 cute essence
50 wood
50 steel
20 cool essence
5000 Bells
Lv. 1: 72 hours
Lv. 2: Instant
Lv. 3: Instant
Lv. 4: Instant
Lv. 5: 72 hours
Max. Friendship Lv.: 20

cool tent

10 cool essence
30 cotton
3000 Bells
Lv. 1: 12 hours
Lv. 2: Instant
Lv. 3: 12 hours
Max. Friendship Lv.: 10

cute tent

10 cute essence
30 cotton
3000 Bells
Lv. 1: 12 hours
Lv. 2: Instant
Lv. 3: 12 hours
Max. Friendship Lv.: 10

half-pipe

20 sporty essence
30 wood
30 steel
3000 Bells
Lv. 1: 48 hours
Lv. 2: Instant
Lv. 3: Instant
Lv. 4: Instant
Lv. 5: 48 hours
Max. Friendship Lv.: 15

natural tent

10 natural essence
30 cotton
3000 Bells
Lv. 1: 12 hours
Lv. 2: Instant
Lv. 3: 12 hours
Max. Friendship Lv.: 10

picnic set

20 natural essence
30 cotton
30 paper
3000 Bells
Lv. 1: 48 hours
Lv. 2: Instant
Lv. 3: Instant
Lv. 4: Instant
Lv. 5: 48 hours
Max. Friendship Lv.: 15

pool set

30 sporty essence
100 steel
20 natural essence
5000 Bells
Lv. 1: 72 hours
Lv. 2: Instant
Lv. 3: Instant
Lv. 4: Instant
Lv. 5: 72 hours
Max. Friendship Lv.: 20

sporty tent

10 sporty essence
30 cotton
3000 Bells
Lv. 1: 12 hours
Lv. 2: Instant
Lv. 3: 12 hours
Max. Friendship Lv.: 10

rock stage

30 cool essence
50 wood
50 steel
20 sporty essence
5000 Bells
Lv. 1: 72 hours
Lv. 2: Instant
Lv. 3: Instant
Lv. 4: Instant
Lv. 5: 72 hours
Max. Friendship Lv.: 20

street set

20 cool essence
30 wood
30 steel
3000 Bells
Lv. 1: 48 hours
Lv. 2: Instant
Lv. 3: Instant
Lv. 4: Instant
Lv. 5: 48 hours
Max. Friendship Lv.: 15

tree house

30 natural essence
50 wood
50 steel
20 cute essence
5000 Bells
Lv. 1: 72 hours
Lv. 2: Instant
Lv. 3: Instant
Lv. 4: Instant
Lv. 5: 72 hours
Max. Friendship Lv.: 20

rustic tent

75px
10 rustic essence
30 cotton
3000 Bells
Lv. 1: 12 hours
Lv. 2: Instant
Lv. 3: 12 hours
Max. Friendship Lv.: 10

tree swing

20 cute essence
60 wood
3000 Bells
Lv. 1: 48 hours
Lv. 2: Instant
Lv. 3: Instant
Lv. 4: Instant
Lv. 5: 48 hours
Max. Friendship Lv.: 15