Animal Crossing: New Leaf
Talk

32
1,759pages on
this wiki
Animal Crossing: New Leaf,known in Japan as Animal Forest: Jump Out (とびだせどうぶつの森, Tobidase Dōbutsu no Mori?) is the most recent installment in the Animal Crossing series, released exclusively for the Nintendo 3DS in 2012 and 2013. The player assumes the role of mayor of a new town[1], and with the help of the townsfolk and Isabelle, an eager secretary, it will be their job to make the town a better place to live[2]. Compared to previous installments, New Leaf's aesthetics are more realistic, with more human-proportioned characters and more realistic flora. New Leaf introduces the most new features since Dōbutsu no Mori e+.
Animal Crossing: New Leaf was first revealed at the Electronic Entertainment Expo in 2010, and a trailer and screenshots were released on Nintendo's website following E3 2011 on June 7. The game came out in Japan on November 8th 2012, and was released in South Korea on February 7th 2013 and in North America on June 9th 2013. It came out in Europe on June 14th 2013. Both Australia and New Zealand shared the same release date of June 15th 2013. The game is the first 3DS title to sell over 3 million copies in Japan alone. New Leaf is also the first in the series available through Nintendo eShop digital download.
Data from Animal Crossing: City Folk containing the player's appearance and their catalog cannot be transferred to Animal Crossing: New Leaf, unlike in Animal Crossing: City Folk where data could be transferred from Animal Crossing: Wild World.
New and Returning Features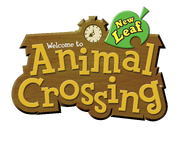 Town Customization
The town is now more customizable than ever before. The player has the power to choose which town to live in, by being given 4 random pre-set towns when starting the game. Once a town has been chosen, the player (with their mayoral powers), can determine the locations to build new buildings and features, set Town Ordinances and construct public works projects.
There are many projects available, including the return of the Police Station and the camp site that was last seen in Animal Crossing. It allows non-resident villagers to visit, who can then be encouraged to move in. Returning features include the wishing well and bridges, with new features including benches for villagers and the player to sit on.
New Buildings and Locations
Main Street
Main Street is the main shopping district in the player's town, replacing the City. Many returning features can be found in the street, including Katrina's store, the Museum and the town shop. New to New Leaf is Kicks store, owned by Kicks who first appeared in Animal Crossing: City Folk, including many other new buildings.
Buildings
The Island
The Island from the Nintendo Gamecube games makes a reappearance. Players can visit the Island by going to the pier where Kapp'n will take them. Kapp'n's old brown boat has been upgraded into a white motor boat that can carry extra players connecting over Wi-Fi. As before, Kapp'n sings songs while heading to the island. The songs differ depending on how many other players are visiting.
Tropical Fruits
New tropical fruits and flora native to the island can be brought home to the town, and rare bugs, fruit, flowers, bushes and fish can be found on the Island. The Island has summer weather year-round, allowing players to catch summer-exclusive bugs and fish regardless of the season in their town. Keeping in line with the weather, players can also swim in the ocean. Tortimer now resides on the Island, hosting multi-player mini-games and awarding medals to the winner. Mini-game difficulties range from 1-star to 3-stars, with 1-star being the easiest. Medals can be spent at the Island Gift Shop to buy rare items and furniture.
Villagers
Villagers are now more diverse. Not only are there new characters, but also new hamster and deer species. Villagers can now shake trees, plant flowers, and enter other buildings, among other things. The maximum number of villagers per town is now 10. Two new personalities have been introduced: Smug and Uchi. Villagers that have moved out can also visit the Main Street. There are 313 potential neighbors in New Leaf - just over double the amount that was available in Animal Crossing: Wild World.
Collectibles
New fruits have been introduced: lemons, bananas, mangoes, persimmons, durians and lychees. Native fruit trees (the fruit type that the town started with) can rarely spawn perfect fruit, which sell for more than regular fruit (typically 600 Bells) and, when planted in a town that has that fruit as the native fruit, create a profitable but delicate perfect fruit tree that will sprout a few crops of perfect fruit before withering completely.
Other new features
There are new face styles.
There are 40 emotions to obtain, up from City Folk's 29. There are 20 on each of two pages, in place of being restricted to a single page of 4 emotions.
Pants, shoes, socks, skirts, and full dresses can now be bought, and can be worn regardless of gender.
The player can use megaphones to get their villagers' attention.
K.K. Slider's songs now feature album art, which can be hung on walls.
Fruit can now be stacked in one inventory spot, up to 9 units.
The player can run anywhere barefoot.
Upon purchasing and donning a wetsuit and pressing A when facing the ocean, the player can swim and dive to get Seafood the new species type in Animal Crossing: New Leaf.
K.K. Slider now works as a DJ at Club LOL, alongside doing performances on Saturday nights. His songs can be bought from Timmy and Tommy's shop.
Gemstones can be found in rocks once a day by striking them with a shovel. Cyrus can be asked to customize an item of furniture with it.
All players within the same town have their own individual house to customize, a change from Animal Crossing: Wild World where all players created within the same town shared the same house.
Patterns made at Able Sisters can be saved as QR codes after unlocking the QR machine. If the player scans a QR code, they will be able to obtain that design. The machine can work with Google images, and pictures too.
House signs are not set up, the animal villagers can choose anywhere in town to place their house.
Items can be hung on the wall.
Fortune Cookies can be bought from Timmy and Tommy for 2 play coins each (the coins earned by walking with the 3DS step counter). The fortunes can be exchanged for either consolation prizes (random furniture normally sold in the store) or an item specifically corresponding to that fortune which is part of the Nintendo set.
Only around 2-3 characters from Dōbutsu no Mori e+, Animal Crossing: Wild World, and Animal Crossing: City Folk have been removed as of this game, which include Champ, Kaitlin, and Wisp.
Bamboo can be grown.
Labelle now works with Mabel and Sable, running an accessories shop (Labelle is apparently the middle sister of the bunch).
GracieGrace has a shop built in the final upgrade of Timmy and Tommy's store (the third floor).
A second floor for the museum can be added as a project, allowing the player to create their own exhibits.
Kapp'n has a family that lives and works on the Island.
The player now responds to questions by nodding their head to yes or no responses.
The player can dance to music played in Club LOL (By using the D-pad) on nights other than Saturday.
Redd's forgery scam has expanded beyond paintings and now includes statues and sculptures. All forged items now have visible flaws, allowing sharp-eyed players to avoid wasting their money.
By streetpassing, the player can get items like ice cream, party horns and balloons from other players.
Using Nintendo Zone, the player can obtain special items.
The player can use colored contacts to change their eye color.
The player, once having built the Café, can work there part-time and serve coffees to villagers and special characters. Performing well results in a gift from an exclusive furniture set.

When they have bought coffee for four days in a row, the player can get a "coffee to go".

New hairstyles and colors of hair appear.
Grass Deterioration is not as devastating as before. Planted flowers will regenerate grass fairly quickly.
The villagers now throw birthday parties, both for themselves and the player.
Furniture series now have an 11th item, which are usually wall items.
Announcements
The game was originally unveiled at E3 2010, though very little was shown. A trailer was shown featuring updated features, and few new features. Shortly after, there was news that the player could be the mayor of the town, with the goal being to make the town a better place to live. A non-playable demo was also available on the show floor at Nintendo's booth as an example of the 3DS's 3D effects. Due to it not being given much detail, fans speculated that it might have not been an actual game but just an example and that another Animal Crossing game would be developed later.
At E3 2011, the rumors were proven false. During Nintendo's press conference, the Animal Crossing logo, among others, appeared on-screen as a list of upcoming 3DS games. Additionally, a new trailer was released. The trailer showed off a new feature in the game: swimming and diving in the ocean. Also, a player was shown changing not only his shirt, but also his shoes and pants. A player was also shown coming out of what appeared to be his tent-house. Throughout the town, benches and a beehive were shown, with a villager and later a player sitting on the bench. A new character was also shown, a yellow dog following the player. Fans quickly assumed she was the 'eager secretary', Isabelle, that helps the player mayor the town throughout the game. In an interview with Kotaku editor Stephen Totilo, the creator of Animal Crossing, Katsuya Eguchi, revealed that Animal Crossing 3DS will allow players to arrange their furniture in any way they like, and will also feature new networking features.
General Pictures
3DS XL Bundle

A 3DS XL bundle featuring Animal Crossing New Leaf is a part of  the Nintendo 3DS XL family. This edition includes a specially made Nintendo 3DS XL for the game, and has Animal Crossing New Leaf pre-installed on the console, and was available before the release date. It has already been released in Japan, Korea, North America and the United Kingdom. If pre-ordered at selected stores, the buyer will receive a model of the Town Hall and Isabelle.
Trivia
The Japanese title for Animal Crossing: New Leaf, (Tobidase Dōbutsu no Mori) translates to both Animal Crossing: Jump/Pop Out and Animal Crossing: 3D, pointing out that the Japanese title is a play-on-translation.
Gallery
Videos
Developer Roundtable
Nintendo Direct
Trailers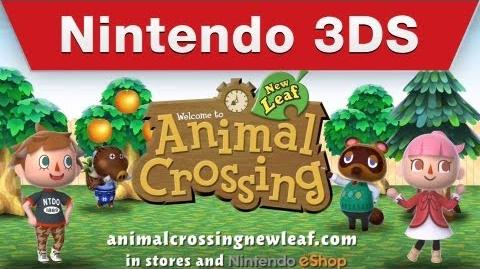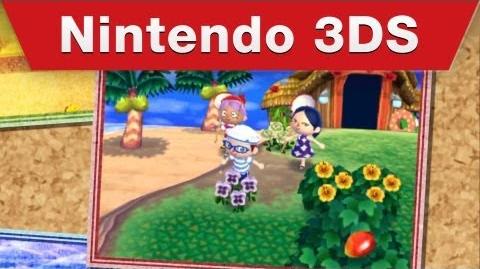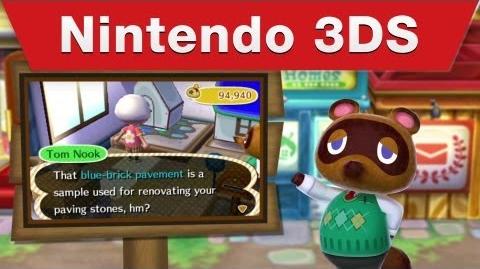 External Links
References