Animal Crossing: New Leaf
Talk

25
1,649pages on
this wiki
This page is currently under construction.
Please help us

expand

this article by editing it. Feel free to discuss this cleanup on the article's talk page.
Animal Crossing: New Leaf (named Animal Crossing: Jump Out or とびだせ どうぶつの森: Tobidase Dobutsu no Mori in Japan) is the latest installment in the Animal Crossing series, released exclusively for the Nintendo 3DS. The player assumes the role of mayor of a new town[1], and with the help of the townsfolk and "one eager secretary" it will be their job to make the town a better place to live[2]. Compared to previous installments, New Leaf's aesthetics are more realistic, with more human-proportioned characters and more realistic flora. New Leaf introduces the most new features since Animal Forest e+.
Animal Crossing: New Leaf was first revealed at the Electronic Entertainment Expo in 2010, and a trailer and screenshots were released on Nintendo's website following E3 2011 on June 7. The game came out in Japan on November 8th 2012, and was released in South Korea on February 7th 2013. It will come out in North America on June 9th 2013, along with Europe on June 14th 2013. Both Australia and New Zealand will share the same release date on June 15th 2013. The game is the first 3DS title to sell over 3 million copies in Japan alone. New Leaf is also the first in the series available through digital download.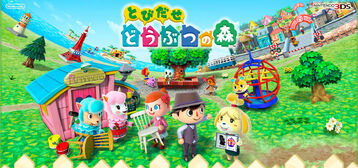 New and Returning Features
Edit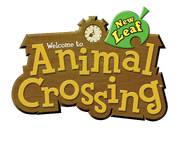 Town Customization
Edit
The player now has the power to determine the location of shopping and residential areas (which also affects the position of oceans and rivers), set town ordinances, and start the construction of and place Public Works Project . The player can also construct camp sites for out-of-towners, who can be encouraged to move in, as in Animal Crossing.
Town ordinances can set shop operating times, make villages water plants, increase buying and selling prices, and affect the town in other ways. Public Works Project are public fixtures that include benches, the Roost, and bridges. This expands from the previous games, where Tortimer only builds a few select objects in specific locations after a certain amount of money has been deposited in the town fund. Fixtures that make a return include the Wishing Well and the police station.
The player's house
Edit
The player first visits Tom Nook's real estate agency to choose where they want their house built, instead of choosing from a small selection of pre-built houses. However, the player will initially live in a tent. At the real estate agency the player can order additional rooms to be built (including a basement), expand existing rooms, and customise the exterior of the house by changing fences, doors, floors, and roofing.
Furniture can have custom designs applied to them and certain pieces of furniture can be hung on the wall.
Stores and Venues
Edit
A variety of new stores and other buildings appear in New Leaf.
The Island
Edit
The Island from the Nintendo Gamecube games makes a reappearance. Players can visit the Island by going to the pier and having Kapp'n take you there. Kapp'n's old brown boat has been upgraded into a white motor boat that can carry extra players connecting over Wifi. As before, Kapp'n sings songs while heading to the island. The songs differ depending on how many other players are with you.
New tropical fruits and flora native to the island can be brought home to the town, and rare bugs, fruit, flowers, bushes and fish can be found on the Island. The Island has summer weather year-round, allowing players to catch summer-exclusive bugs and fish regardless of the season in their town. Keeping in line with the weather, players can also swim in the ocean. Tortimer now resides on the Island since he is in his retired days, hosting multiplayer mini-games and awarding medals to winner. Mini-game difficulties range from 1-star to 3-stars, 1-star being the easiest. Medals can be spent at the Island Gift Shop to buy rare items and furniture.
Villagers
Edit
Villagers are now more diverse. Not only are there new characters, but new species, hamsters, alpacas, and deer, have also been introduced. Villagers can now shake trees, plant flowers, and purchase items from shop, among other things. The maximum number of villagers per town is now 10. Two new personalities have been introduced: Smug and Uchi. Villagers that have moved out can also visit the shopping district.
Collecting
Edit
New fruits have been introduced: Lemons, Bananas, Mangoes, Persimmons, Durians and Lychees. Fruits can grow into Perfect Fruits, which sell for more than Normal Fruits (typically 1,150 Bells) and, when planted, create a profitable but delicate delicious tree. 
New Features
Edit
New faces have been added.
You can change your eye colour with the use of coloured contacts.
You can keep two pages of Emotions, with 20 emotions on each page. 
You can  now buy pants, shoes, socks, and skirts.
The player can use megaphones to get villagers' attention.
You can make Fruit baskets to carry up to 9 fruit in one slot.
The player can run on the beach barefoot.
You can swim and dive down to get secret sea creatures when you see a black silhouette moving.
K.K. Slider now works as a DJ at Club LOL, alongside doing performances on Saturday nights. You can buy his songs at Timmy and Tommy's Shop once you have the third upgrade.
When you walk in to your village you might notice that there's an extra rock, everyday the rock will be in a different place around the Town. If you hit the new rock with your shovel you will get crystal, silver, bronze or gold which you can then take to R. Parkers. Next go to the blue alpaca and ask him to make something. He will look to see what you've got and if he agrees he will place it on the table and make you a model or piece of furniture. The price will be 3,000 bells and your piece of furniture or model will be complete in half an hour.
You can do the same thing with dinosaur bones as long as you've got the full body parts.
Your character is taller.
Like other Animal Crossing games before the player arrives to the town, you get asked questions that effect the player. Now, you can effect the simple layout of the town.
Players have the option to begin public works in town. These include buildings such as the police station and coffee shop. Other public works include benches, lampposts, and other exterior structures. 
All players, within the same town, get their own individual house to customize. This is a change from Wild World where all players created within the same town shared the same house.
Patterns made at the Able Sisters can be saved as QR codes. If the player scans a QR code, they will be able to obtain that design, it can work with Google images, and pictures too.
House signs are not set up, the animal villager can choose anywhere in town to place their house, same feature for the player.
Items can be hung on the wall.
Your house loan is less money and can be payed off in your own order. (Meaning you can choose to not have a basement or a side room, etc.)
It is rumoured you can write back to your mom in the game.
You can buy Fortune Cookies with Playcoins. (Earned by walking with the 3DS on)
You can swim in the ocean. (This requires the user to wear a wetsuit, an item that can be rented on the island and/or eventually purchased)
Bamboo can be grown.
Bushes/Tall shrubs are a new addition that can be grown.
There is a garden shop where you can buy different gardening needs.
You can have up to 30 Community Projects.
The outside of your house can be customized.
You can visit other people's towns via Dream Suite where you can also get a design from that town.
In the Shopping Mall area, there is Digby, who monitors the entrance spot for the Happy Homes Area.
Labelle now works with Mabel and Sable, running an accessories shop. (Labelle is apparently the middle sister of the bunch)
You have an ID showing your town code, your name, your town name, your birthday, the day you came to the town, your catchphrase, your badges that you get from Phineas, and your photo. Your photo can be changed by going into the photo booth on Main Street.
You can get a part time job in the cafe after 8 purchases of coffee
Unlike the bees, jellyfish in the sea can sting you as well (you can also pick up empty bee hives)
Wendall only appears in dream lands
When you are on the train, Rover picks out maps and it gives you the option to change the map if it doesn't suit you
GracieGrace has a shop built in the final upgrade of Tom Nooks store (the third floor)
Apparently their is a hidden cave (google images (animal crossing new leaf map) (the paper version))
Only the first resident becomes mayor the other 3 are just residents
The museum can get a second floor allowing you to create your own rooms or exhibits, the second floor also has a mini shop. (the star gazing thing has gone)
Your characters head nods to yes or no responses.
You can dance at the nightclub
Announcements
Edit
The game was originally unveiled at E3 2010, though very little was shown. A trailer was shown featuring updated features, and few new features. Shortly after, there was news that the player could be the mayor of the town, with the goal being to make the town a better place to live. A non-playable demo was also available on the show floor at Nintendo's booth as an example of the 3DS's 3D effects. Due to it not being given much detail, fans speculated that it might have not been an actual game but just an example and that another Animal Crossing game would be developed later.
At E3 2011, the rumors were proven false. During Nintendo's press conference, the Animal Crossing logo, among others, appeared on-screen as a list of upcoming 3DS games. Additionally, a new trailer was released. The trailer showed off a new feature in the game: swimming and diving in the ocean. Also, a player was shown changing not only his shirt, but also his shoes and pants. A player was also shown coming out of what appeared to be his tent-house. Throughout the town, benches and a beehive were shown, with a villager and later a player sitting on the bench. A new character was also shown, a yellow dog following the player. Fans quickly assumed she was the 'eager secretary' that helps the player mayor the town.
In an interview with Kotaku editor Stephen Totilo, the creator of Animal Crossing, Katsuya Eguchi, revealed that Animal Crossing 3DS will allow players to arrange their furniture in any way they like, and will also feature new networking features.
3DS XL Bundle
Edit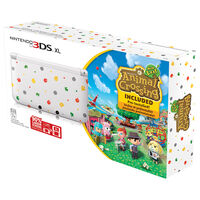 A new 3DS XL bundle featuring Animal Crossing New Leaf is new to the 3DS XL family. It has Animal Crossing New Leaf pre-installed on the console and was released in many retails and game stores around Korea and Japan. Europe has just listed a 3DS XL Bundle for the game, and has just been revealed in America during the April 17th Nintendo Direct. It is official that it will be releasing June 15 2013 for Australia and New Zealand, as it is seen on Nintendo's website. Nintendo confirmed the Animal Crossing 3DS XL bundle will be released in the UK on the 14th June 2013 as well as the game's release. If pre-ordered, then the buyer will receive a model of the Town Hall and Isabelle.
Developer Roundtable
Edit
Nintendo Direct
Edit
Trailers
Edit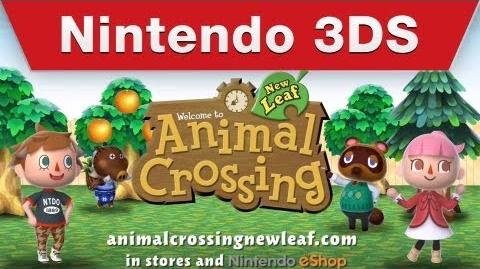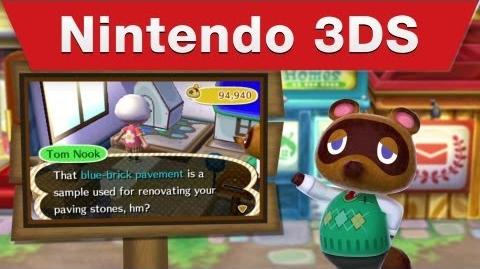 External Links
Edit
References
Edit