Animal Crossing Plaza is a free to download communication based video game for the Nintendo Wii U[1], with a limited life span that is expected to end at the end of 2014.[2] It is created as the first spin-off of the Animal Crossing series, mainly focusing on the Animal Crossing: New Leaf community and promoting communication between players. It is based on the console's Miiverse feature and the Animal Crossing Community within it. A special DLC item, the "Shaved-ice Lamp", was released in Animal Crossing: New Leaf to commemorate its release. It was discontinued and removed from the eShop on December 22nd, 2014.
Gameplay
Animal Crossing Plaza departs from the traditional gameplay of life simulation and collection, by focusing on a more community-based game. Players play as their Mii characters in an unnamed town's plaza where both villagers and special characters reside.
While in the Plaza, player's can select any Animal Crossing: New Leaf characters to bring up a menu, which allows them to post about the character, see recent posts by other users, or mark the character as a favorite, which allows the player to find and share information about them. Also available to the player is the character's birthday and name. Special characters will talk about upcoming events or their businesses and the services they offer.
If the player clicks their Mii character, they can share their Dream Address, favorite characters, birthday and their location. Also in the menu is the ability to edit profile settings, view their profile and album, or post to Miiverse and the Animal Crossing Community.
While viewing the album settings, the player has the option to insert the SD card from their Nintendo 3DS console into the Nintendo Wii U to copy over images, which can be shared with the Plaza or the Miiverse.
Players are also allowed to share QR codes containing Designs, which can be captured using the Nintendo 3DS camera for use in Animal Crossing: New Leaf.
There was a Software Update that came after the end of a Nintendo Direct. The System Update allowed the person to have their villagers in their towns, now being able to enter or make an appearance in Animal Crossing Plaza. Also, it will include stamps of Special Characters, that they can customize and draw on in Miiverse, noting that those kinds of stamps are only allowed in those game categories.
Trivia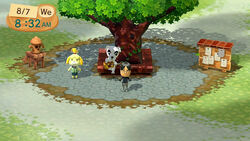 Animal Crossing Plaza is the first spin-off game in the Animal Crossing series.
The game is the first to reveal the birth dates of special characters.
References