Rules and information
Archives

---
Creating
[ 1 ]

---
---
Moving
[ 1 ]

---
Proposals include, but are not limited to, suggesting the deletion, creation, or merging of wiki pages.
Procedure and rules for all votes:
You must have 10 or more mainspace edits before the start of polling.
You may either
All proposals will run for one week unless discussion has not stopped after that time, in which case it may be extended at the discretion of an administrator. At this point, the thread will be locked by a moderator.
All proposals require at least 2/3 supporting votes in order to pass.
When starting a poll thread, you are entitled to link it around the wiki on message walls of those who may be concerned, and in chat. Abuse of this privilege will result in the proposal being closed.
Please be clear in your title what you are actually proposing.
Sign all proposals and comments with four tildes.
Proposals
Portable Infoboxes
Hello! I am Ursuul, & I'm representing FANDOM's
Vanguard team
. We're users who volunteer to help communities adopt new technologies & features,
like content portability
. We've identified the Animal Crossing Wiki as a high priority for introducing the
Portable Infobox
tool, which has a lot of benefits for your community. Namely, it would completely resolve the Infobox length issue in
Animal Crossing Wiki:To Do List
due to very long Infoboxes being automatically collapsed in mobile, & if desired it would make solving the issue on desktop easy with collapsible sections natively supported.
There are other benefits I could lay out on request, but I'll keep it simple; I'd like to reproduce, as much as possible, the look & feel of your desktop Infoboxes in global CSS, & work to upgrade the Infobox templates themselves so that they can be accessible on any current & future platform. Maintaining the converted Infoboxes if you want to make changes later on should be very simple.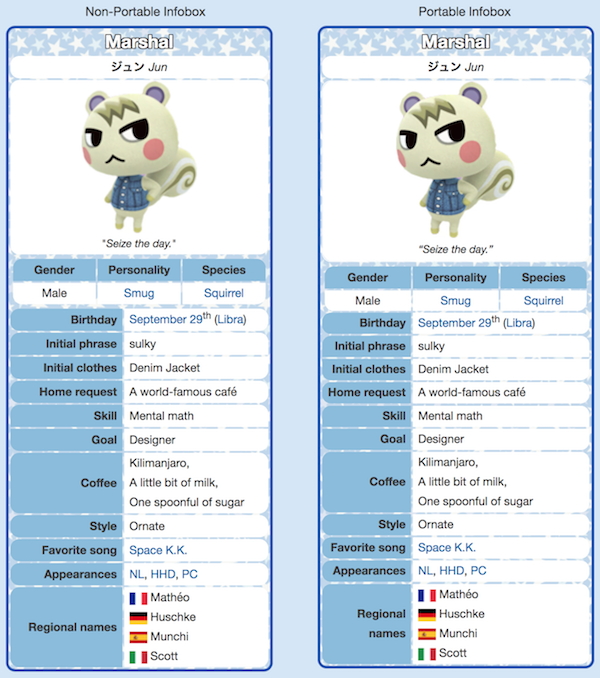 You can see an example of my work here, as proof of concept. If the community has any questions or concerns, I would be more than happy to hear & answer them, & I welcome all suggestions on how to alter them more towards the direction you want to go. Otherwise, I will continue to build drafts that closely resemble your current style. If you are not satisfied with the style match, please remember that changes can be made & that correctable items should not be a reason to vote "no".

Finally, while we will respect a "no" vote for a few months, we will likely make another pass after that will take your concerns into account.
UrsuulTalkVanguardDate1:26 AM Monday, July 2, 2018 (UTC)
Comment: On behalf of our admins, it's not the portable infoboxes what we have a problem with, it's the FANDOM's staff half-assed mobile display efforts and also the fact that you have rendered this wiki virtually unusable with ads and unwanted autoplay videos that have been forcibly implemented onto our articles without any consent, along with numerous other unwelcome changes such as the discussion-style forums. This isn't a personal attack on you, but rather a response to User:FishTank as the thread had been closed. BlueeCookie (talk) 19:15, July 2, 2018 (UTC)
Comment: Thanks for weighing in on that. The mobile experience is developed by a different development team than Portable Infoboxes, and the mobile skin is actually designed to showcase Portable Infoboxes. However, your dislike of the mobile experience (and ads and videos and Discussions) should not be a factor in your decision about Portable Infoboxes. By using the FANDOM platform, your community consents to any number of infrastructural services. Some, like ads, are not elective. — FishTank (wall) 19:35, July 2, 2018 (UTC)
Comment: Are there any cons to converting? I like how this sounds but I would like to know what makes converting so unappealing to most admins here. ~Emilysara (Questions?) 21:43, July 2, 2018 (UTC)
Comment: I'd like to say "none," considering that the new Infoboxes will work & look the same as the old ones, just portable, but you might consider my opinion on the subject to be biased. If so, have a look at Thread:138325; their concern seems to be that the portable version "pretty much looks exactly the same," & that they'd "rather the changes be a bit more dramatic before altering anything." I can of course make them look like anything you might want if desired, but that seems to be their prime concern with the actual Infoboxes themselves, besides the other concerns BlueeCookie brought up. Of course, I advise you to ask them yourself to get their opinions directly, in case I misrepresented them by accident, & I welcome them to stop by & tell me their concerns as well, so that we might all work together to satisfy all parties.

Oppose: I don't fully understand why you're asking for our opinions on all of this considering the conversion will be made in a matter of time. I realize that opposing this only postpones the process, but I hope it will shed some light on how we really feel about your motives. Please allow us to make our own alterations in peace when we see best fit. нσα • ωαℓℓ 00:27, July 5, 2018 (UTC)
Comment: We respect opposition, and will circle back in a few months to see if you've changed your minds. At some point, so that we can move to having a mobile-compliant wiki that serves more than half of your visitors, Portable Infoboxes really should be considered, especially as they are nearly or completely identical to your current setup. PIs were introduced three years ago. Making your own alterations when you best see fit is not always an option when FANDOM needs to do what's best to serve our communities (including yours).