Games

Films

Guides

Useful Pages

Featured Article

Winter in Animal Crossing starts in November and lasts until February. Festive music will replace the default tunes; villagers will embrace the season merrily, others quite the opposite. Snowmen may inhabit the town in fear of melting, enjoying and living in the jolly moment. During this period of time, snow will litter the ground, roofs of houses will be packed white,

trees will be covered and some decorated, and, instead of rain, the downfall will be snow. Like the other seasons, winter has many unique events and characters, but it is one of the quietest seasons. Winter follows Autumn, and precedes Spring. See Winter for further information.
Featured Image

The Nintendo 3DS is the successor to the Nintendo DS. It has 3D technology without the need for glasses that can be adjusted to suit a user's requirements. The screens are using a parallax barrier system. New with this DS is the analog control stick, gyro sensor and motion control. Launch titles for the system are rumored to include the new Animal Crossing series game, Animal Crossing: New Leaf.

Helping Out

To write a new article, just enter the article title in the box below.

Not sure where to start?

Check out the Projects page to see what you can help with.
Find out more about the wiki on the About page.
If you are new to wikis, check out the Tutorial.

Adding Content

Every wiki has two list of articles that need help called "Stubs" (short articles) and "Wanted Articles". Don't be shy, get in there.
Uploading images is another really easy way to help out - see the Special:Upload page!
March's Villager Birthdays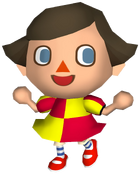 News
19th December, 2012

Please read my apology! I'm back and ready to fulfill my position as admin! ☺ - G-Bot
23rd November, 2012

I'm going to start testing and implementing some new templates around the wikia (some are already in place) so don't be shocked or surprised if things start looking different. Taliseth (talk) 07:55, November 24, 2012 (UTC)
5th October, 2012

This video is freaking amazing. Watch it nao! http://www.youtube.com/watch?v=FX3hVM4zUCY&feature=g-u-u Taliseth
That would happen to be the Nintendo Direct of Oct. 5th. Exclusively for Animal Crossing: Jump Out. NintendoLover
30th September, 2012

I will start incorporating other features into the wiki (such as a background for each season) sooner or later. I will try and work out how to change the cursor too. Stay tuned. Taliseth
Events
Notable February Events

Saturday, February 2nd: Groundhog Day (PG and CF)
Saturday, February 2nd (WW)/Sunday, February 3rd (CF): Flea Market
Monday, February 4th: Bright Nights (WW Only)
Monday, February 11th: Los Festivales (CF and NL) Thursday, February 14th: Valentine's Day (AF, PG, and CF)
Saturday, February 23rd (WW)/Sunday, February 24th (CF): Fishing Tourney

Creepy Series (Haunted House Series)
The Creepy Series is a new series of items that is being distributed in Animal Crossing: City Folk in 2012, only through WiiConnect24. It was absent from the rest of the Animal Crossing games. The series starts beginning at 1st June 2012 to 30th October 2012. There are 12 items ,including the wallpaper and flooring, in the series, one for each month in the year.
Poll
Favorite villager personality?