Ad blocker interference detected!
Wikia is a free-to-use site that makes money from advertising. We have a modified experience for viewers using ad blockers

Wikia is not accessible if you've made further modifications. Remove the custom ad blocker rule(s) and the page will load as expected.
Arowana
アロワナ Arowana

| | | | | | | |
| --- | --- | --- | --- | --- | --- | --- |
| AF | AF+ | AC | e+ | WW | CF | NL |
| #31 | #31 | #31 | #31 | #32 | #34 | #38 |

Location
Price
River
10,000 Bells
Size
Shadow size
27.25 in. 70 cm
Medium (GCN, WW),
Large (CF, NL)
Time of year
Time of day
June to September (AC, CF, NL)
June to September 15th (AF, WW)
4pm-9am
Scientific name
Scleropages legendrei
Family
Osteoglossidae - the arowanas
Appearances
AF, AF+, AC, AFe+, WW, CF, NL
Rarity
Rare (★★★★★)
Regional names
Arowana
Arowana
Arowana
Arowana
"I caught an arowana! But where's its bow?" —New Leaf
The arowana is a golden fish that can be found in the river, and has been present in every single Animal Crossing series game. It is a rare summer fish that sells for 10,000 Bells, the same as the arapaima. Prior to Wild World, its shadow size was medium.
Donating to the museum
As with all fish caught in Animal Crossing series, the arowana can be donated to the museum in each game by talking to Blathers, who will also give some information on it.
In Animal Crossing
Upon donation, Blathers the curator will say:
"Another rare fish! You, old bean, are an angler for the ages! The bards will sing your praises! Thanks to generous individuals such as yourself, player, the museum is growing by leaps and bounds. Your dragon fish has now found a home away from home. I promise, it will be very happy in its new digs!"
In Wild World
Upon donation, Blathers the curator will say:
"I've never heard of a dish made with arowana... However, I find it hard to believe they're inedible. People eat ANYTHING. Still, they're probably more profitable to sell for viewing than for eating."
It can be found in the middle tank, after donating it to the museum.
In City Folk
Upon donation, Blathers the curator will say:
"...It's said that arowana have retained the same appearance for nearly 100 million years! That's far longer than people or owls have been around... Hoo, the sights they must have seen... There's a bit of mystery about them, is there not? A fitting appearance for the king of tropical fish!"
It can be found in the tank on the right, after donating it to the museum.
In New Leaf
In New Leaf, an information board in the aquarium will list information about this fish.
"Arowanas are ancient fish that have remained basically unchanged for 100 million years. They are known for their large scales and the hair that sticks out from their lower lips. They have a remarkable jumping ability and can leap over a yard above the surface of the water. Males protect their babies by keeping them in their mouths and releasing them once they reach a certain size."
It can be found in the large tank at the top of the room in the river section of the aquarium.
Capture quotes
"I caught an arowana! It's the golden dragon fish! I wonder what it's worth..." —Animal Crossing
"I caught an arowana! It's golden and beautiful!" —Wild World
"I caught an arowana! It's golden and gorgeous!" —City Folk
Japanese Quotes
「アロワナが つれた! きんピカで、ゴージャス!! たかくうれるかなぁ?」 —Animal Forest
「アロワナが 釣れた! 金ピカで、ゴージャス!! 高く売れるかなぁ?」 —Animal Forest e+

"I caught an arowana! It's gilded and gorgeous!! I wonder how high I can sell it for?" (translation)
Encyclopedia information
Wild World
| | |
| --- | --- |
| Fish | Encyclopedia Information |
| | "The male raises its young in its mouth. While doing this, he eats nothing. What dedication." |
| Size | About 4 feet |
| Habitat | Rivers |
| Season | Summer |
| Icon | |
City Folk
Fish

Encyclopedia Information

"These ancient fish are popular pets said to grow attached to their owners."

Size
About 28 inches
Habitat
River
Season
Summer
New Leaf
Fish

Encyclopedia Information

"I caught an arowana! But where's its bow?"

Size
About 28 inches
Habitat
River
Season
Summer
Gallery
Further information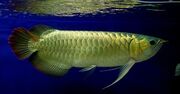 The Asian arowana is a fish that can be found in the waters of Malaysia and Indonesia. Unusually for fish, the arowana is capable of breathing air using a specialized swim bladder. It is carnivorous and is capable of jumping remarkably high out of the surface of the water to catch insects and birds on the branches nearby. (Further Information)