Ad blocker interference detected!
Wikia is a free-to-use site that makes money from advertising. We have a modified experience for viewers using ad blockers

Wikia is not accessible if you've made further modifications. Remove the custom ad blocker rule(s) and the page will load as expected.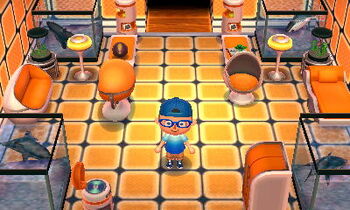 The Astro Series (きんみらいシリーズ, Kinmirai Shirīzu?, Near-future) is a series of furniture in the Animal Crossing series. It first appears in New Leaf.
The style of the furniture is futuristic-looking, hence the name "astro". The color-scheme for the furniture is white and orange, although can be changed to either black/red or black/blue by Cyrus.
Cheri, Chadder, and Mira own most of the items in the series.
Furniture Items
| Item Name | Image | Buy Price | Sell Price | Available From | HHA Theme(s) | Style | Size | Info | Customize |
| --- | --- | --- | --- | --- | --- | --- | --- | --- | --- |
| Astro bed | | 3,200 | 800 | Nooklings | Sci-Fi, Trendy | Flashy | | Bed | Yes |
| Astro CD player | | 3,600 | 720 | Nooklings | Sci-Fi, Trendy | Flashy | | Stereo | Yes |
| Astro chair | | 2,800 | 700 | Nooklings | Sci-Fi, Trendy | Flashy | | Chair | Yes |
| Astro clock | | 2,980 | 745 | Nooklings | Sci-Fi, Trendy | Flashy | | Wall | Yes |
| Astro closet | | 3,480 | 870 | Nooklings | Sci-Fi, Trendy | Flashy | | Storage | Yes |
| Astro dresser | | 3,400 | 850 | Nooklings | Sci-Fi, Trendy | Flashy | | Storage | Yes |
| Astro lamp | | 2,680 | 670 | Nooklings | Sci-Fi, Trendy | Flashy | | Lamp | Yes |
| Astro shelf | | 2,800 | 700 | Nooklings | Sci-Fi, Trendy | Flashy | | N/A | Yes |
| Astro sofa | | 3,280 | 820 | Nooklings | Sci-Fi, Trendy | Flashy | | Sofa | Yes |
| Astro table | | 3,000 | 750 | Nooklings | Sci-Fi, Trendy | Flashy | | Table | Yes |
| Astro TV | | 3,200 | 800 | Nooklings | Sci-Fi, Trendy | Flashy | | TV | Yes |
Wallpaper and Flooring
| Item Name | Image | Buy Price | Sell Price | Available From | HHA Theme(s) | Style |
| --- | --- | --- | --- | --- | --- | --- |
| Astro wall | | 2,120 | 530 | Nooklings | Sci-Fi, Trendy, Toy Shop | Modern |
| Astro floor | | 2,120 | 530 | Nooklings | Sci-Fi, Trendy | Basic |
Name in other languages

Colección Armario - Astro collection

Astroserie - Astro series

Série Astro - Astro series
Refurbished
| Blue and Black | Red and Black |
| --- | --- |
| | |
| | |
| | |
| | |
| | |
| | |
| | |
| | |
| | |
| | |
| | |