Baabara
Talk

1
1,655pages on
this wiki
"Being polite is the easiest thing in the world. Just say "please" a lot. As in, "Please share your rice pudding with me, or else!""
— Baabara, Animal Crossing: City Folk
Baabara (トロワ Torowa) is a sheep villager with a snooty personality, who has appeared in all of the Animal Crossing series games so far. Her name is a joke on the name 'Barbara' and the sound sheep make, which is "baa". Her initial phrase, "daahling," is also a joke on the noise sheep make, and the word "darling."
Appearance
Edit
Baabara has brown arms, face, and legs, which contrast with her puffy, pale blue coat. She has purple horns, which blend in with the pale blue tones in her woolly coat. Baabara's eyes are shaped into little 'X' 's and has a brownish outline to them. Her smile is open - mouthed. Her initial item of clothing is the purple tie-die, which, as sheep, she wears around her neck as a scarf. She also has eyeshadow, which goes with her snooty personality. Baabara bears a resemblance to Wendy.
Personality
Edit
Below is a brief description of the snooty personality. For more information, click here.
She is a snooty character, which means she will appear rude and arrogant when talking to the
player
. She will talk about the style and appearance of other villagers, including the player, giving her opinion on what they are wearing. She will warm up to the player after some time talking to them, sharing any gossip and asking them for their opinion on what they are wearing and holding. She will find it hard to get along with other villagers, specifically
jock
and
lazy
villagers who have conflicting lifestyles with her own. She may get on with
cranky
villagers, who also enjoy gossiping about the appearance and lifestyles of others.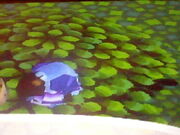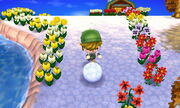 Baabara has a very neat house, with most of the
classic
series. She sometimes has a few cabana items in her house as well, like a cabana sofa or a cabana screen. She has a brown parquet floor, and a brown wall. She has a
Turntable
which plays
K.K. Swing
. The slow song matches the deep, luxurious theme of her house. In
Animal Forest e+
,
Angus
has the same style as her house.
Controversy
Edit
Baabara has been the center of attention on gaming review websites, when Nintendo released fourteen copies of Animal Crossing: Wild World to the press to try out the game. Little did Nintendo know that Baabara's initial phrase was tampered with; what should have been "daahling" was an offensive word. The mistake was changed. More information can be found here.