Ad blocker interference detected!
Wikia is a free-to-use site that makes money from advertising. We have a modified experience for viewers using ad blockers

Wikia is not accessible if you've made further modifications. Remove the custom ad blocker rule(s) and the page will load as expected.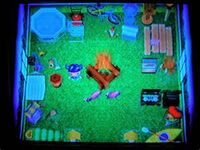 The
Backyard Theme
in
Animal Crossing (GCN)
consists of 15 items, plus matching wallpaper and flooring. In
Wild World
, these items were moved to the
Mossy Garden Theme
, and returned to this theme in
City Folk
.
Villagers who own parts of this theme include Frita with two picnic tables, Flora with the Mr. and Mrs. Flamingo, Benedict and Patty who many of these items in New Leaf, Mac and Joey who both own the backyard pool, and O'Hare who owns the hammock.
Furniture Items
Animal Crossing (GCN)
| Item Name | Buy Price | Sell Price | Available From | Group | Color | Size (sq) |
| --- | --- | --- | --- | --- | --- | --- |
| Backyard Pool | 990 | 248 | Crazy Redd's | - | - | 4 |
| Barbeque | 1,760 | 440 | Tom Nook's | B | Red | 1 |
| Bird Bath | 1,450 | 363 | Tom Nook's | A | Green | 1 |
| Bird Feeder | 1,260 | 315 | Tom Nook's | C | - | 1 |
| Birdhouse | 1,620 | 405 | Tom Nook's | B | - | 1 |
| Bug Zapper | 1,200 | 300 | Tom Nook's | A | - | 1 |
| Garden Gnome | 3,380 | 845 | Lottery | - | - | 1 |
| Hammock | 1,320 | 330 | Tom Nook's | C | - | 2 |
| Lawn Chair | 1,180 | 295 | Tom Nook's | A | - | 1 |
| Lawn Mower | 2,760 | 690 | Crazy Redd's | - | Red | 1 |
| Mr. Flamingo | 1,530 | 383 | Tom Nook's | B | - | 1 |
| Mrs. Flamingo | 1,530 | 383 | Tom Nook's | A | - | 1 |
| Picnic Table | 1,390 | 348 | Tom Nook's | C | - | 4 |
| Sprinkler | 1,640 | 410 | Tom Nook's | C | Yellow | 1 |
| Tiki Torch | 870 | 218 | Tom Nook's | B | - | 1 |
City Folk
| | | | | | | | |
| --- | --- | --- | --- | --- | --- | --- | --- |
| Item Name | Image | Buy Price | Sell Price | Available From | Color | Genres | Size (sq) |
| Backyard Pool | | 1,980 (990) | 247 | Crazy Redd's | Aqua (x2) | Trendy/Playful | 4 |
| Barbeque | | 1,760 | 440 | Tom Nook's | Red (x2) | Trendy/Playful | 1 |
| Bird Bath | | 1,450 | 362 | Tom Nook's | Green (x2) | Retro/Dignified | 1 |
| Bird Feeder | | 1,260 | 315 | Tom Nook's | White (x2) | Retro/Dignified | 1 |
| Birdhouse | | 1,620 | 405 | Tom Nook's | Brown (x2) | Retro/Dignified | 1 |
| Bug Zapper | | 1,200 | 300 | Tom Nook's | Blue (x2) | Trendy/Dignified | 1 |
| Garden Gnome | | 3,380 | 845 | Spotlight item | Red/Green | Retro/Dignified | 1 |
| Hammock | | 1,320 | 330 | Tom Nook's | White/Brown | Retro/Playful | 2 |
| Lawn Chair | | 1,180 | 295 | Tom Nook's | Aqua/White | Retro/Playful | 1 |
| Lawn Mower | | 5,250 (2,760) | 690 | Crazy Redd's | Red (x2) | Trendy/Dignified | 1 |
| Mr. Flamingo | | 1,530 | 382 | Tom Nook's | Pink (x2) | Retro/Dignified | 1 |
| Mrs. Flamingo | | 1,530 | 382 | Tom Nook's | Pink (x2) | Retro/Dignified | 1 |
| Picnic Table | | 1,390 | 347 | Tom Nook's | Yellow (x2) | Retro/Playful | 4 |
| Sprinkler | | 1,640 | 410 | Tom Nook's | Yellow (x2) | Trendy/Dignified | 1 |
| Tiki Torch | | 870 | 217 | Tom Nook's | Red/Brown | Retro/Playful | 1 |
Matching Wall & Floor
| Item Name | Buy Price | Sell Price | Available From | Group |
| --- | --- | --- | --- | --- |
| Backyard Fence | 800 | 200 | Tom Nook's | |
| Backyard Lawn | 880 | 220 | Tom Nook's | |