Balloon Fight is a classic NES game. In Animal Crossing, this game is available to play as an unlockable. On Christmas, Jingle will mail this game.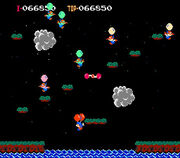 Info
Balloon Fight is a classic NES game released around the time of the USA's NES release in 1986, while the Arcade version has existed since 1984. The game revolves a character with a helmet holding three red balloons, navigating a course filled with obstacles. This may have to do with villager's move in Super Smash Bros. U/3DS, where he drifts for a short amount of time wearing a helmet similar to the description above. It did not meet expected sales, but still earned a profit.
Trivia
The gameplay is similar to a game made by Williams Electronics called "Joust".
The "Balloon Man" is a trophy in Super Smash Bros. Melee.
Ad blocker interference detected!
Wikia is a free-to-use site that makes money from advertising. We have a modified experience for viewers using ad blockers

Wikia is not accessible if you've made further modifications. Remove the custom ad blocker rule(s) and the page will load as expected.