Biff
Talk

0
1,656pages on
this wiki
Biff (ガブリエル, Gabriel), is a jock hippo villager from the Animal Crossing series. The name "Biff" comes from the adjective "buff." Biff is a name often derived with bullying individuals or those obsessed with muscles, perhaps an allusion to his Jock personality. Biff made his first appearance in Animal Forest. He was absent in Animal Crossing: Wild World and Animal Crossing: City Folk but later reappeared in Animal Crossing: New Leaf.
Appearance
Edit
Biff is a brown hippo, his cheeks and hooves are lighter in color. He has only two visible tusks showing, which is common for the hippo villagers. Biff's eyes make it seem as if he's concentrating on becoming stronger, faster which is appropriate for the jock personality. Biff wears a Jagged Shirt. At first glance, the player may think that he is a cranky villager at first glance, due to very angry looks.
Personality
Edit
Below is a brief description of the jock personality. For more information, click here.
Biff has a jock personality. He will be into weightlifting, sports and anything athletic. He will be competitive and friendly towards the Player. He gets along with Normal, Peppy and other Jock villagers.
Biff has a country theme towards his house, with many items from the Green Series. K.K. Blues is played on a Reel-to-Reel.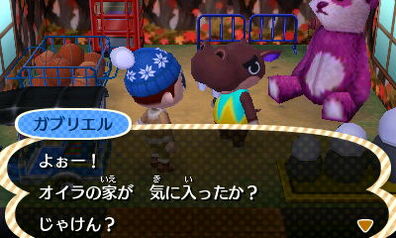 E-Reader Card Info
Edit
Biff comes off as a typical
Jock
. True, he's thick-headed powerhouse who likes to call people "Squirt," but once you get to know him, You'll find That he's a NICE thick-headed powerhouse. His password is IoBeWmvs3kbuBFKquZCxc3vcGhuv.