Blowfish
フグ Fugu

| | | | | | | |
| --- | --- | --- | --- | --- | --- | --- |
| AF | AF+ | AC | e+ | WW | CF | NL |
| – | – | – | – | – | – | #50 |

Location
Price
Ocean
125 Bells
Size
Shadow size
10 in. 25 cm
Medium
Time of year
Time of day
November to February
9pm to 4am
Scientific name
Takifugu rubripes
Family
Tetraodontidae
Appearances
NL
Rarity
Rare (★★★★)
Regional names
Poisson-ballon
Pez Globo
Pesce palla giapponese
Kugelfisch
"I caught a blowfish! And that's not just hot air!" —New Leaf
The blowfish (フグ,, Fugu?) is a new fish introduced in New Leaf. It is a winter relative to the puffer fish.
Donating to the museum
In New Leaf
In New Leaf, an information board in the aquarium will list information about this fish.
"Blowfish are considered a delicacy, famous for their tempting taste despite being highly poisonous. Blowfish are not poisonous at birth, though, which makes young ones relatively safe for consumption. It's only once they have ingested enough microbes from seawater and food that they become poisonous. When they feel threatened, they suck in air and water to blow themselves up like balloons. This makes them too big to eat without predators being horsed to chomp down on their poison quills."
Encyclopedia Information
New Leaf
Fish

Encyclopedia Information

"I caught a blowfish! And that's not just hot air!"

Size
10 inches
Habitat
Ocean
Season
Winter
Gallery
Further information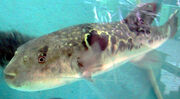 Animal Crossing's blowfish represents the species Takifugu rubripes in real life, where it is often called the tiger puffer or Japanese puffer (torafugu 虎河豚). The name blowfish (and the Japanese in-game name fugu (フグ) is a generic name for any species of puffer fish. It is notable as the second vertebrate to have its genome sequenced. The scientific name refers to the four large teeth, fused into an upper and lower plate, which are used for crushing the shells of crustaceans and mollusks, their natural prey. (further information)
Ad blocker interference detected!
Wikia is a free-to-use site that makes money from advertising. We have a modified experience for viewers using ad blockers

Wikia is not accessible if you've made further modifications. Remove the custom ad blocker rule(s) and the page will load as expected.