This page requires additional images.
Please help us expand this article by adding more images to this page.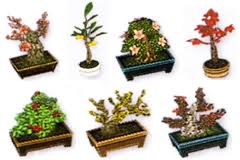 The Bonsai Trees set in Animal Crossing consists of seven items. In Wild World it replaced the Bonsai Set, which in turn became the Pine Bonsai Set.
Bonsai is the art of aesthetic miniaturization of trees. This set contains the non-pine, flowering species of trees used in this art form.
Furniture Items
Animal Crossing (GCN)
| Item Name | Buy Price | Sell Price | Available From | Group | Color | Size (sq) |
| --- | --- | --- | --- | --- | --- | --- |
| Azalea Bonsai | 1,500 | 375 | Tom Nook | B | Green | 1 |
| Hawthorn Bonsai | 1,800 | 450 | Tom Nook | C | Green | 1 |
| Holly Bonsai | 1,600 | 400 | Tom Nook | B | Green | 1 |
| Jasmine Bonsai | 1,700 | 425 | Tom Nook | A | Green | 1 |
| Maple Bonsai | 1,700 | 425 | Tom Nook | C | Orange | 1 |
| Plum Bonsai | 1,900 | 475 | Spotlight item | C | Red | 1 |
| Quince Bonsai | 1,600 | 400 | Tom Nook | A | Red | 1 |