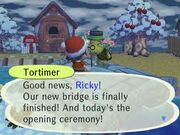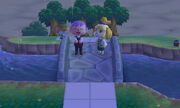 Bridges are landmarks that cross over the river, connecting the land on both sides. Most towns have two bridges to start with, but if the town has an island, another bridge will appear. In Animal Crossing: City Folk, another bridge will be built after donating 200,000 Bells to the Town Fund and will take a week to build. You have to go to the civil center in the town hall and choose Town Fund and Pelly will ask you to vote. In Animal Crossing: New Leaf, only one bridge was available at the start of the game and they are available as Public Works Projects. There can only be three present at any given time and in New Leaf, demolishing the original bridge from your town in order to build a new one counts against your 30 Public Works Projects.
In all games up until New Leaf there were two types of bridges, Cobblestone and Suspension. In New Leaf, there are four new types of bridges as well as the two original styles for a total of six different bridge styles.
If you demolish a bridge in Animal Crossing: New Leaf that is next to a villager who has moved in, Isabelle will not allow the bridge placement because she now considers it too close to the house and 'might cause problems'.
New Leaf Bridge Styles
| | | | | | |
| --- | --- | --- | --- | --- | --- |
| | | | | | |
| Cobblestone Bridge | Suspension Bridge | Brick Bridge | Modern Bridge | Fairy-Tale Bridge | Wooden Bridge |