This page is currently under construction.
Please help us expand this article by editing it.
Events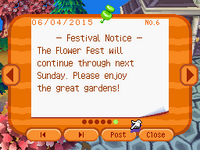 Notices about events will usually appear one week prior to an event.
An Wild World exclusive competition for the resident who can make the best garden.
Miscellaneous
Message of the Week
In Wild World, small anecdotes or notes occasionally appear on the Board, usually with a humorous twist. These notes are suspected to have been written by either Pelly or Phyllis as there are often tales about the writer's sister, and their odd habits.
Talking to Myself
In Wild World, every so often, "Talking to Myself" posts are posted to the Board. They are often remotely random, off-topic, and fairly non-sequitur. For a compilation of "Talking To Myself" bulletins, please see this page.
Weather Warnings
Notices for significant upcoming weather changes.
Birthdays
These notices tell players of a villager's birthday a week before their special day, and also wishes the player many happy returns when it's their own birthday.
Emergency Notices
These are notes that Tom Nook puts up to advertise an imminent Point Special or Spotlight Item. Point Specials are advertised a week before the event, whilst a Spotlight Item is only made known of the day of its sale.
Other