Ad blocker interference detected!
Wikia is a free-to-use site that makes money from advertising. We have a modified experience for viewers using ad blockers

Wikia is not accessible if you've made further modifications. Remove the custom ad blocker rule(s) and the page will load as expected.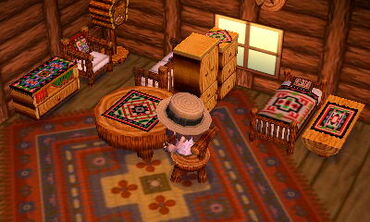 The Cabin series (ログシリーズ, Rogu Shirīzu?, Log) in the Animal Crossing series consists of eleven furniture items, plus matching wallpaper and flooring. The series conveys the feel of log cabin furniture, along with patterned fabric.
Hopper, Grizzly, Amelia, and Erik have some items from this series in their homes.
Furniture Items
Animal Crossing
Item Name
Image
Buy Price
Sell Price
Available From
Group
Color
Size
Info
Cabin Armchair
2,280
570
Tom Nook's
B
-
Chair
Cabin Bed
2,400
600
Tom Nook's
A
Red
Bed
Cabin Bookcase
2,300
575
Lottery
-
-
-
Cabin Chair
6,800
( 1,700)
425
Crazy Redd's
-
-
Chair
Cabin Clock
2,000
500
Tom Nook's
C
-
Clock
Cabin Couch
2,480
620
Tom Nook's
C
-
Chair
Cabin Dresser
8,640
( 2,160)
540
Crazy Redd's
-
-
Storage
Cabin Low Table
2,100
525
Tom Nook's
A
-
Table
Cabin Table
2,100
525
Tom Nook's
B
Red
Table
Cabin Wardrobe
2,480
620
Tom Nook's
C
-
Storage
Wild World
Item Name
Image
Buy Price
Sell Price
Available From
Group
Color
Style
Size
Info
Cabin Armchair
2,280
570
Tom Nook's
B
Brown/White
Old School/Chic
Chair
Cabin Bed
2,400
600
Tom Nook's
A
Brown/Colorful
Old School/Chic
Bed
Cabin Bookcase
2,300
525
Spotlight item
-
Brown/Colorful
Old School/Chic
-
Cabin Chair
3,400
( 1,700)
425
Crazy Redd's
-
Brown
Old School/Chic
Chair
Cabin Clock
2,000
500
Tom Nook's
C
Brown
Old School/Chic
Clock
Cabin Couch
2,400
620
Tom Nook's
C
Brown/White
Old School/Chic
Chair
Cabin Dresser
4,320
( 2,160)
540
Crazy Redd's
-
Brown
Old School/Chic
Storage
Cabin Low Table
2,100
525
Tom Nook's
A
Brown/Colorful
Old School/Chic
Table
Cabin Table
2,100
525
Tom Nook's
B
Brown/Colorful
Old School/Chic
Table
Cabin Wardrobe
2,480
620
Tom Nook's
C
Brown
Old School/Chic
Storage
City Folk
Item Name
Image
Buy Price
Sell Price
Available From
Color
Genres
Size
Info
Cabin Armchair
2,280
570
Tom Nook's
Brown/White
Retro/Dignified
Chair
Cabin Bed
2,400
600
Tom Nook's
Brown/Colorful
Retro/Dignified
Bed
Cabin Bookcase
2,300
575
Spotlight item
Brown/Colorful
Retro/Dignified
-
Cabin Chair
3,400
( 1,700)
425
Crazy Redd's
Brown (x2)
Retro/Dignified
Chair
Cabin Clock
2,000
500
Tom Nook's
Brown (x2)
Retro/Dignified
Clock
Cabin Couch
2,480
620
Tom Nook's
Brown/White
Retro/Dignified
Chair
Cabin Dresser
4,320
( 2,160)
540
Crazy Redd's
Brown (x2)
Retro/Dignified
Storage
Cabin Low Table
2,100
525
Tom Nook's
Brown/Colorful
Retro/Dignified
Table
Cabin Table
2,100
525
Tom Nook's
Brown/Colorful
Retro/Dignified
Table
Cabin Wardrobe
2,480
620
Tom Nook's
Brown (x2)
Retro/Dignified
Storage
New Leaf
| Item Name | Image | Buy Price | Sell Price | Available From | Color | HHA Theme(s) | Style | Size | Info | Customize |
| --- | --- | --- | --- | --- | --- | --- | --- | --- | --- | --- |
| Cabin Armchair | | 2,280 | 570 | Timmy & Tommy | Colorful/Brown | Rustic | Iconic | | Chair | Yes |
| Cabin Bed | | 2,400 | 600 | Timmy & Tommy | Colorful/Brown | Rustic | Iconic | | Bed | Yes |
| Cabin Bookcase | | 2,300 | 575 | Timmy & Tommy | Colorful/Brown | Rustic | Iconic | | - | Yes |
| Cabin Chair | | 1,700 | 425 | Timmy & Tommy | Brown (x2) | Rustic | Iconic | | Chair | Yes |
| Cabin Clock | | 2,000 | 500 | Timmy & Tommy | Brown (x2) | Rustic | Iconic | | Clock | Yes |
| Cabin Clock | | 1,800 | 450 | Timmy & Tommy | Brown (x2) | Rustic | Iconic | | Wall Furniture | Yes |
| Cabin Couch | | 2,480 | 620 | Timmy & Tommy | Brown/White | Rustic | Iconic | | Couch | Yes |
| Cabin Dresser | | 2,160 | 540 | Timmy & Tommy | Brown (x2) | Rustic | Iconic | | Storage | Yes |
| Cabin Low Table | | 2,100 | 525 | Timmy & Tommy | Brown/Colorful | Rustic | Iconic | | Table | Yes |
| Cabin Table | | 2,100 | 525 | Timmy & Tommy | Brown/Colorful | Rustic | Iconic | | Table | Yes |
| Cabin Wardrobe | | 2,480 | 620 | Timmy & Tommy | Brown (x2) | Rustic | Iconic | | Storage | Yes |
Wallpaper and Flooring
Animal Crossing
| Item Name | Image | Buy Price | Sell Price | Available From |
| --- | --- | --- | --- | --- |
| Cabin wall | | 1,200 | 300 | Tom Nook |
| Cabana rug | | 1,540 | 385 | Tom Nook |
Wild World
| Item Name | Image | Buy Price | Sell Price | Available From |
| --- | --- | --- | --- | --- |
| Cabin wall | | 1,200 | 300 | Tom Nook |
| Cabin rug | | 1,540 | 385 | Tom Nook |
City Folk
| Item Name | Image | Buy Price | Sell Price | Available From |
| --- | --- | --- | --- | --- |
| Cabin wall | | 1,200 | 300 | Tom Nook |
| Cabin rug | | 1,540 | 385 | Tom Nook |
New Leaf
| Item Name | Image | Buy Price | Sell Price | Available From | HHA Theme(s) | Style |
| --- | --- | --- | --- | --- | --- | --- |
| Cabana wall | | 1,200 | 300 | Nooklings | Rustic | Iconic |
| Cabin rug | | 1,540 | 385 | Nooklings | Rustic | Iconic |
Names in other languages
통나무 시리즈 Tongnamu sirijeu - Log series

Blockhausserie - Log house series (New Leaf)

Holz-Serie - Wood series (Animal Crossing) (Wild World) (City Folk)

Série Chalet - Lodge series


Colección Cabaña - Cabin collection
Refurbished
Wood material
| Normal tree | Birch tree | Patchy Tree |
| --- | --- | --- |
| | | |
| | | |
| | | |
| | | |
| | | |
| | | |
| | | |
| | | |
| | | |
| | | |
Cloth
| Normal | Green | Yellow |
| --- | --- | --- |
| | | |
| | | |
| | | |
| | | |
| | | |
| | | |