| | |
| --- | --- |
| | The title of this article is conjectural. An official name for the article's subject has not been found, so it has been given a fitting title by editors. If there is an official name, it is requested that Canyon be moved to the correct name. |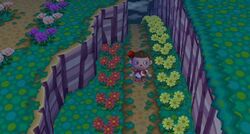 A canyon is a fan-named area of a town, where the cliff nearly touches the edge of the town, creating a long path, only a few tiles wide, between two cliffs. Canyons always run north to south, and are always accessible from the south. Occasionally a ramp may be found at the north end of the canyon, allowing the player to run from one end to the other.
Ad blocker interference detected!
Wikia is a free-to-use site that makes money from advertising. We have a modified experience for viewers using ad blockers

Wikia is not accessible if you've made further modifications. Remove the custom ad blocker rule(s) and the page will load as expected.