Ad blocker interference detected!
Wikia is a free-to-use site that makes money from advertising. We have a modified experience for viewers using ad blockers

Wikia is not accessible if you've made further modifications. Remove the custom ad blocker rule(s) and the page will load as expected.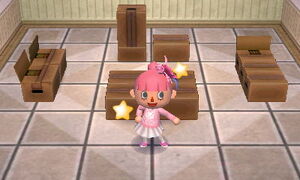 The Cardboard Set is a set of furniture that consists of five items. This set was introduced in New Leaf. The Cardboard Set is obtained the same way as the Sloppy Series is. The items can occasionally be found in the Lost-and-Found section of the Police Station or in the Flea Market in Re-Tail. It cannot be re-ordered, nor can it be bought in any of the Nookling stores.
As the name implies, the set is exclusively built out of cardboard boxes. There is another item in the game, the Cardboard Box, that is not a part of the series. That is because it can be bought for 100 Bells any of the Nookling stores and it can be reordered. The items in the Cardboard Set are not customizable.
Furniture Items
| Item Name | Buy Price | Sell Price | Available From | Color(s) | HHA Theme(s) | Size (sq) | Info |
| --- | --- | --- | --- | --- | --- | --- | --- |
| Cardboard Bed | - | 250 | Police Station, Re-Tail | Brown (x2) | Quirky | 2 | Bed |
| Cardboard Chair | - | 200 | Police Station, Re-Tail | Brown (x2) | Quirky | 1 | Chair |
| Cardboard Closet | - | 230 | Police Station, Re-Tail | Brown (x2) | Quirky | 1 | Storage |
| Cardboard Sofa | - | 240 | Police Station, Re-Tail | Brown (x2) | Quirky | 2 | Chair |
| Cardboard Table | - | 240 | Police Station, Re-Tail | Brown (x2) | Quirky | 4 | Table |
Gallery