Cutlery, also known as knife and fork in Animal Crossing, is an item featured in most installments from the Animal Crossing series except for Wild World, and New Leaf. It is placed on the banquet table at the Wishing Well/Town Hall, and is picked up simply in the earlier games by pressing B when the player is standing nearby.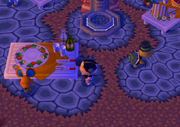 Appearance
Animal Crossing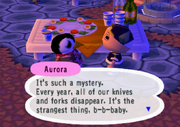 During the Harvest Festival, Franklin will hide in a random place in town. The player must take the cutlery from a table at the Wishing Well and give them to Franklin. Franklin will then give the player a piece of the Harvest series. If the player attempts to sell the cutlery to Tom Nook, he will not accept it, but will offer to throw it away.
City Folk
Cutlery is given to the player during Harvest Festival by Mayor Tortimer. Franklin will hide in a random area in the town and the player can swap cutlery for rare furniture that they can sell or keep.