Dōbutsu no Mori (game)
Talk

6
1,656pages on
this wiki
Dōbutsu no Mori, どうぶつの森, Animal Forest in English, is the name of the first installment in the Animal Crossing series. It's for Nintendo 64 and it was only released in Japan. This game was translated and ported to the PowerPC-based Nintendo Gamecube because the Nintendo 64 was at the end of its life, and because of that sales would have been affected if it were released on the Nintendo 64. This game is compatible with the Expansion Pack and has a sharper image when it is used. This is due to the number of pixels in its resolution being multiplied by 4, from 320x240 (quarter of a normal television's resolution) to 640x480 (the exact resolution of a television). People have made fan translations, which translate most of the game. The game was released at the end of the Nintendo 64's lifespan.
GCN Port Similarities
Edit
Animal Forest has been re released on the Nintendo GameCube with a translation of Animal Forest e+.
Resetti still does the resetting punishment.
The real-time clock made a new feature for games.
K.K. Slider is still in the game.
Famicom (NES) games are in it.

A player catches a Herabuna, an Animal Forest-only fish.

Added by

Tomasto1

Copper, Booker, Tom Nook, and others are in it.
Questions are asked to determine your look.
Tools are also the same.
Nook's Shop upgrades are in it.
GCN Port Differences
Edit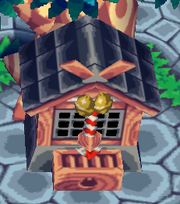 The Able Sisters and their shop is not in Animal Forest, thus designs are not available.
When you release fish in N64 Animal Forest, they bounce along the ground and into the water instead of diving straight in.
Insects are not restricted by acres and can freely wander beyond into other acres. Banded Dragonflies and similar airbourne insects cannot fly too far out to sea in the N64 game, but in Animal Crossing there is no limit.
Some of the wallpapers and carpets from Animal Forest are redesigned or removed in Animal Crossing.
Some of the clothing from Animal Forest, for example, the N Logo shirt (G Logo in Animal Crossing), are redesigned or removed in Animal Crossing.
Two sets of stationary from Animal Forest are redesigned, the New Year's Card and the Fortune Paper.
The holidays from Animal Forest are either changed or removed in Animal Crossing.
Tom Nook wears very slightly different uniforms.
The Wishing Well from Animal Crossing is a Bell Shrine in Animal Forest. On New Year's Day, instead of tossing a coin in the fountain, you shake the thick rope in the middle and the bells ring.
The input keyboard from Animal Crossing is a dial that contains the letters, numbers, and symbols that appear on the screen in Animal Forest.
In Animal Crossing, Gulliver would give the player a rare furniture piece for saving him. In Animal Forest, he gives the player a random furniture piece.
In Animal Crossing, three items could be stored in container furniture such as dressers, wardrobes, etc. In Animal Forest, only one item can be stored in those kinds of furniture.
In Animal Crossing, any house you start out with had a wooden box that had a college rule journal on top. In Animal Forest, this is not included, so this means this feature was either not included or both items have to be bought from Nook.
In Animal Crossing, the catalog has a section called "Handhelds" where umbrellas, pinwheels, fans, balloons and tools could be ordered. In Animal Forest, this section is called "Umbrellas" and only umbrellas can be ordered from that section. This means pinwheels, fans, balloons, and tools cannot be ordered from the catalog.
In Animal Crossing, the player could store multiple airchecks in Stereos, Radios, etc. In Animal Forest, only one aircheck could be stored in them.
Buildings such as Tom Nook's shop, the Post Office, and the Dump have slightly redesigned logos in Animal Crossing.
There is no Museum, thus there is no Blathers. The Faraway Museum still exists, and fossils can be sent there for identification.
Taking a trip on Animal Forest requires the player have 1 Controller Pak to save travel data on, and two Controller Paks are needed to travel directly. In Animal Crossing, an extra Memory Card is used to save travel data, and the player can travel directly to the other town if 2 Memory Cards with town data are in use at the same time.
The American Animal Crossing has e-Reader support, as well as the Japanese GameCube e+ version of Animal Forest along with e-Reader+ support. The European version of Animal Crossing and Animal Forest don't have e-Reader support because it was never released in Europe and it was not yet released in Japan at the time the Nintendo 64 was at its end, respectively... so instead of there being an e-reader machine in the Post Office, there is just a bench.
Mayor Tortimer was not a character yet, so you could not obtain any gifts from him.
During the Cherry Blossom Festival, all the villagers sit on mats like the Japanese do.
Katrina wore a white headband instead of the normal veil that she wears.
Instead of buying stationary as a pack of four, only one piece of paper can be bought at a time.
A GB or GBC is used instead of a GBA.
In Animal Crossing, a Money Rock appears for every player in a village each day. In Animal Forest there is only one money rock per town per day, no matter how many people are playing.
There was no tropical island and there was no Kapp'n.
If you hit a villager with a net it will not affect them.
There are no weeds.
Pete the Pelican does not exist
Items looks different when on the ground. Stationary is a paper bag with a leaf on it. Clothing is a treasure chest.
Flowers go dormant in the winter(?)
No pitfalls.
No Blanca.
No coconuts(?)
Mystery items for sale at Nooks. (early January?)