This page is currently under construction.
Please help us expand this article by editing it.
This article requires clean-up to meet the quality standards of the Animal Crossing Wiki.
Please edit this page to improve it. Feel free to discuss this cleanup on the article's talk page.
This page requires additional images.
Please help us expand this article by adding more images to this page.
Downloadable content (better known as DLC) are items that are distributed by Nintendo or that are received during special events. Animal Crossing: New Leaf takes advantage of distributed items that can be downloaded to the Nintendo 3DS using SpotPass, which downloads content to the console when the game is switched on or left in stand-by mode.
To get the DLC in the game, the player must go to the Post Office, speak to either Pelly or Phyllis, and choose"Ask about a present." Either one of the clerks will connect the game to the internet to check for available content. The item is not forced upon the player from Pete or other characters, as was in Animal Crossing: City Folk.
Since the European release of Animal Crossing: New Leaf on 14th June 2013, several downloadable or distributed items were available for players in Europe. A few of these items were eventually released in North America, but many remain Europe only or already existing items. They were available either by a monthly download at the post office, or by distribution via Pete from Nintendo. 
For a list of English Content, click here.
For a list of Japanese Content, click here.
Below is a list of items released so far.
Slushie Machine
Image  
Name  
Date  
Buy Price  
Sell Price  
Slushie Machine
July 15th - July 22nd 2013
2,400 Bells
600 Bells
Details
Letter

The Slushie Machine was released in European countries in July, to celebrate the sudden warm weather and the start of the Summer in the region. It is the first downloadable item in an English speaking country which is obtained by a letter from Pete, rather than by talking to Pelly or Phyllis.

The accompanying letter from Nintendo contains an error, where the signature at the bottom cuts out the final 'f' on staff.

Dear <Player>,

Beat the heat with this awesome slushie machine! Enjoy the summer sun, but be careful not to drink too much, or you'll get brainfreeze! From the summer-loving staff
Rolling Suitcase
Image
Name
Date
Buy Price
Sell Price
Rolling Suitcase
August 8th, 2013 - August 2013
1,000 Bells
250 Bells
Details
Letter
The Rolling Suitcase is themed around the release of Animal Crossing Plaza for the Wii U. The player will receive a letter from Pete when they start the game, with the suitcase attached.
Dear <Player>,
I got some rolling suitcases
to help me commute to the
new Animal Crossing Plaza
that's opened on the Wii U .
Here's one I had left over.
Hope you'll come visit me!
From Isabelle
Aurora Screen
| | | | | |
| --- | --- | --- | --- | --- |
| | Aurora Screen | February 1st - February 28th 2015 | 4,080 Bells | 1,020 Bells |
Zodiac Series
The schedule for the distribution of this set is thus:
Sagittarius item (Sagittarius' Arrow): 12/1 - 12/21
Capricorn item (Capricorn's Ornament): 12/22 - 1/19
Aquarius item (Aquarius Urn): 1/20 - 2/18
Pisces item (Pisces Lamp): 2/19 - 3/20
Aries item (Aries Rocking Chair): 3/21 - 4/19
Taurus item (Taurus Bathtub): 4/20 - 5/20
Gemini item (Gemini Closet): 5/21 - 6/21
Cancer item (Cancer Table): 6/22 - 7/22
Leo item (Leo Sculpture): 7/23 - 8/22
Virgo item (Virgo Harp): 8/23 - 9/22
Libra item (Libra Scale): 9/23- 10/23
Scorpius item (Scorpio Lamp): 10/24 - 11/22
Europe - The Cloud Content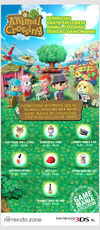 Below is a list of items that can be downloaded from the
Post Office
when connected to a BSkyB "_The Cloud" Nintendo Zone in Europe.
Image
Name
Date
Buy Price
Sell Price
HHA Theme
Raccoon Wall Clock
14th June - 30th June 2013
1,600
400
Toy Shop
Shaved-Ice Lamp
1st July - 14th July 2013
Not for Sale
600
Fairy Tale
White Police Cap

15th July - 31st July 2013

480
120
Sporty
Festival Lantern
1st August - 14th August 2013
900
225
Harmonious
Red-Team Cap
15th August - 31st August 2013
360
90
Sporty
Afternoon Tea Set

1st September - 14th September 2013

 15th August - 31st August 2014

Not for Sale
420
Fairy Tale
Double Neck Guitar
15th September - 30th September 2013
2,800
700
None
Note: It is also possible to obtain these items by changing the router SSID to "_The Cloud". The 3DS will automatically connect to the access point if unlocked and will indicate that it's connected to a Nintendo Zone (otherwise, the user can just connect normally and request DLC from the Post Office). The Cloud hotspots may be found in locations such as McDonalds or Game Mania.
See Also
Ad blocker interference detected!
Wikia is a free-to-use site that makes money from advertising. We have a modified experience for viewers using ad blockers

Wikia is not accessible if you've made further modifications. Remove the custom ad blocker rule(s) and the page will load as expected.