This article requires a cleanup to meet the quality standards of the Animal Crossing Wiki
Please edit this page to improve it. Feel free to discuss this cleanup on the article's talk page.


This needs to meet Special character standards (see "Style" guidelines)
Needs an more detailed appearance section
Clearer explanation of emotions and added New Leaf info (see Talk page)
"The doctor is OUT!"
— Dr. Shrunk, Animal Crossing: City Folk
Dr. Shrunk (ししょー, Shishō?) is an axolotl and a special character in the Animal Crossing series who has appeared in all games since Animal Crossing: Wild World. He is a psychologist that can help players get in touch with their emotional side, by allowing the player to choose "emotions" to show off to their friends. His name could refer to the word "shrink", a slang term for a psychologist.
Appearance
In Animal Crossing Wild World and City Folk, Dr. Shrunk wears a bright yellow jacket with red hoops on, and a large blue bow-tie. In New Leaf, it appears he's older and more professional, and wears a white shirt, navy blue waistcoat, small red bow tie and black trousers. Shrunk has blue eyes, buck teeth and a small tuft of pink hair on the top of his head. Dr. Shrunk is an axolotl, so he has 6 external gill stalks (rami) that stick out from his head. Rather than being behind his head like a real axolotl, his stick out.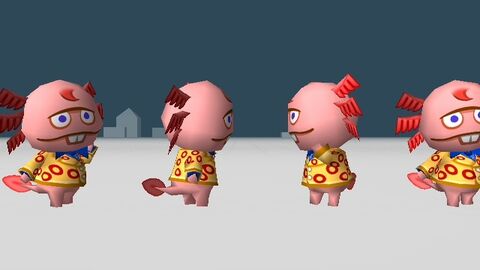 Personality
In his spare time, Dr. Shrunk is a comedian, which leads to him telling jokes often. He is usually cheery, but because of his role in the game, his emotions fluctuate whilst he tells stories. He is a forgiving character, even cheerily explaining who he is if the player forgets. The character can be seen as ambitious, as in City Folk he realizes his dream of becoming a professional comedian, and works at the Marquee. You could use action replay to see him flirt. It is known that most people think Shrunk isn't funny. He does not seem to notice, saying in his glee joke, that he was called daring for showing up on stage when nobody laughed at him.
It is hinted at several times that he has a wife, and it appears she treats him badly. He also mentions he has a son that takes after him. However, since he only mentions his wife and his son during his jokes, it´s possible that they don´t even exist and he only made them up to make his jokes seem funnier.
Role
In Animal Crossing: Wild World
In Animal Crossing: Wild World, Dr. Shrunk will visit your town occasionally on a day from Monday through Friday, between 6:00 AM and midnight. Talk to him, and he will teach you to display a randomly chosen emotion. In his first visit, you can learn only one random emotion, but from the second and forward you can choose one from four random emotions depending on the answer to a series of questions. The first emotion a player will get from him is 'blush'.
In Animal Crossing: City Folk
In Animal Crossing: City Folk, Dr. Shrunk hosts comedy shows at the Marquee, which can be viewed after paying the clerk 800 Bells. A possible villager might appear at the show, usually complaining about it because his shows are rather stupid. Sometimes the villager will actually like the show. Shrunk will teach you an emotion afterward. The emotion taught can be chosen while paying the clerk, when they ask you which show you wish to see. Shrunk is occassionally replaced with Master Frillard.
In Animal Crossing: New Leaf
In Animal Crossing: New Leaf, Dr. Shrunk owns Club LOL, a new entertainment venue where he and K.K. Slider both perform. He once again teaches the Player emotions, but instead of a limit of four the Player can learn all the emotions without having to remove some. He also accepts presents, such as fruit to perform instead of Bells.He will only perform to teach you an emotion once a day. During K.K. Slider's songs on Saturday, he can be seen dancing in the background. After learning thirty-nine emotions, Dr. Shrunk will teach you the Shrunk Funk Shuffle (video here) and give you his jacket.
He has grown a small mustache since his last appearance in City Folk.
In Animal Crossing: The Movie
Dr. Shrunk has a very minor role in Dōbutsu no Mori. He can be seen with Lyle in the audience at the fireworks show.
Being Emotional
Emotions, once learned, can be accessed at anytime. In the chat interface, there will be icons for the emotions that your character has access to. Click on an emotion button to have your character display that emotion.
Emotions have no effect on non-player characters, although they are useful and amusing when playing online with other players. You can only have up to four emotions at one time. If you want another one, select the one you want to replace with the new one and Shrunk will "shrink" the old emotion. In Animal Crossing: New Leaf, non-player characters will respond to emoticons, reacting in either the same way or a different appropriate response.
Emotions
Here is the list of emotions to learn.
Fear
Shyness
Surprise
Inspiration
Happiness
Confusion
Anger
Contentment
Scheming
Rage
Thought
Sadness
Agreement
Approval
Disbelief
Love
Realization
Acceptance
Exasperation
Fatigue
Discontent
Shock
Irritation
Laughter
Glee

There are also many more to use by using the Action Replay such as Pass out, Flirt, Deal cards, and more.
Trivia
His Japanese name is a simplified spelling of "master" or "teacher" (

師匠

,

shishō

?

).
According to his sneezing joke, Shrunk is allergic to humans.
Gallery
City Folk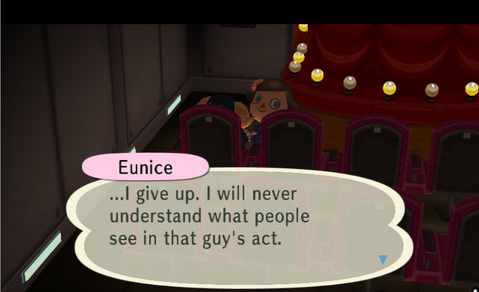 New Leaf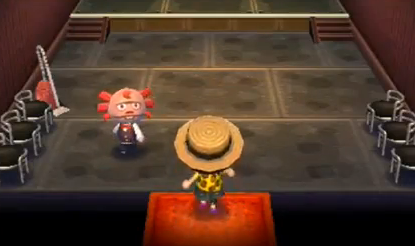 Dōbutsu no Mori (film)