Dream Suite
Talk

0
1,647pages on
this wiki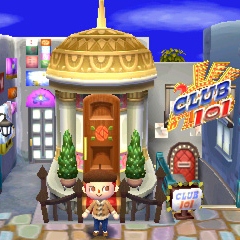 The Dream Suite in
Main Street
Hours Open
To Be Confirmed
The Dream Suite (also known as the Dream Mansion) is a new building introduced in Animal Crossing: New Leaf. It must first be built, which can be achieved by talking to Isabelle when she is first seen sleeping at her desk in the Town Hall. She will make the suggestion shortly afterwards as a project.
Once built, it can be found in Main Street next to Club LOL. Luna provides the service, by allowing the player to access the Towns of other players.
Dream Walking
Edit
Dream walking allows the player to access other players towns, using 12 digit codes called Dream Codes (also called Friend Codes).This is different to inviting a friend to visit or being invited to a town, because they do not see the other player. Not all towns are available to visit, because some players may disallow town sharing.
Once Luna has been given a code, she will allow the player to enter the Town associated with it. The player will change into preset pyjamas and lay on the bed in the room, shortly falling asleep afterwards. Once the player is asleep and they access the town, they will be greeted by the Mayor who will give them a pre-written message from the other player welcoming them.
The player can do mostly anything in the town except access Main Street. Any actions that the player makes does not affect the other player's world as this only emulates it, creating a vandalism free way of sharing towns.
Wendell can be found walking around in the dream town. When talked to, he will allow the player to obtain patterns that are used by the other player.