This page is currently under construction.
Please help us expand this article by editing it.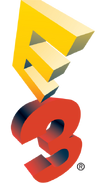 The Electronic Entertainment Expo, often shortened to just E3, is the world's biggest games conference. Nintendo and other games companies generally reveal the year's biggest games there that is held every year in Los Angeles, California.
At E3, people often dress up in many costumes, people are also able to buy valuable items or merchandise that are only available for the event. People can also get their own possessions signed by celebrities, and get to sit with the audience, watching a conference held by their favorite genres and much more.
The games City Folk and New Leaf were mentioned here.
2008
At E3 2008, City Folk and Wii Music were revealed at E3. A conference was held for some following listed upcoming Nintendo games and Animal Crossing: City Folk was listed in that list. All that was shown was a estimated 5 minute clip showed some of Animal Crossing's game developers were explaining how they came up with how they came up with City Folk, and showed some new features along the way.
2010
At E3 2010, The Nintendo 3DS was shown, along with some games, like New Leaf. Nothing much was shown that year besides the game being confirmed and a brief gameplay trailer shown from this. This trailer however, had very weak graphics, this was to due to that the game, was still under development. 
2011
At E3 2011, there was a new gameplay trailer with higher graphics and some improvements. After E3, the new Nintendo 3DS that was released that year was available for download, to where people can the trailer on their own 3DS along with some other upcoming games that were going to be released that year.
2012
At E3 2012, no new information was released for New Leaf, leaving many fans a bit disappointed. All except to having people to play Nintendo Land on the Nintendo Wii U, which features an Animal Crossing mini-game called Sweet Day. It is where the player and up to 6 people, with 4 people being one of the Villagers making an appearance in the game, and the other 2 being Booker and Copper. The game rolls out for Villager(s) collecting candy within a time limit, and Booker and Copper trying to catch the Villager(s), so that they trip and lose candy along the way. 
2013
At E3 2013, not much after the release of New Leaf being released in the recent countries, there was a hot spot, to where Animal Crossers can play and StreetPass with each other, and some information revealing some items that people can receive at following Nintendo Zones for a short time only.
Videos