Flat Stag Beetle
Talk

1
1,654pages on
this wiki
"Yes! I caught a flat stag beetle! I have to celebrate! I know! I'll throw a flat-stag party!" —Animal Crossing
"I did it! I caught a stag beetle! I bet he's fun at parties!" —Wild World
Flat Stag Beetle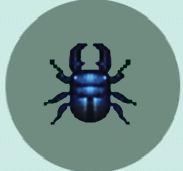 Scientific Name
Dorcus platymelus
Time of Day
7 PM to 8 AM (GCN), 7 PM to 9 AM (WW)
The Flat Stag Beetle is a grey nocturnal stag beetle. It is uncommon, though easy to find, and sells for 2,000 bells. It is found on trees along with its cousins, the Saw Stag Beetle, the Mountain Stag Beetle and the Giant Beetle, and is the commonest of these four, especially from 6-8am.
Donation in the Museum
Edit
As with all bugs in the Animal Crossing series series, the stag beetle can be donated to the Museum by talking to Blathers. During the donation, he will tell the player a little bit about it.
In Animal CrossingEdit
In Wild WorldEdit
Blather's comment is as follows: When picking up a stag beetle, I would advise you to grab it on it's back side. If your finger got stuck in the brute's pinchers, you'd surely regret it, wot wot!
Encyclopedia Information
Edit
Animal CrossingEdit
| | | |
| --- | --- | --- |
| | | Flat Stag Beetle |
Wild World
Edit
Further Information
Edit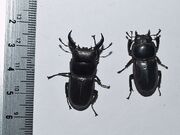 The Hirata Stag Beetle, called hirata-kuwagata in Japanese, is a variable species, with no two beetles having the same mandible shape. They are sometimes referred to as Serrognathus platymelus.
In game it is referred to as Furatto-kuwagata (フラットクワガタ), which directly translates into Flat Stag Beetle. It is unknown what the exact species in the series is.