Breaking the Fourth Wall is a term used when a character knows that they are in a video game, TV show, movie, book, etc. and points it out, though they usually pretend like nobody's there. It has been broken by several characters in Animal Crossing series, and is used frequently in other forms of media.
The term 'fourth wall' originates from the 'missing wall' in a theater, which is the wall separating the audience from the actors. In video gaming, the 'fourth wall' refers to the screen of the device displaying the game.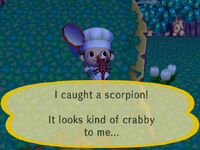 A number of characters break the fourth wall.
Ad blocker interference detected!
Wikia is a free-to-use site that makes money from advertising. We have a modified experience for viewers using ad blockers

Wikia is not accessible if you've made further modifications. Remove the custom ad blocker rule(s) and the page will load as expected.