Friend Code
Talk

3
1,747pages on
this wiki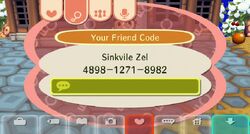 Friend Codes are strings of twelve numbers used to allow access to another player's town during online play, more commonly known as Wi-Fi. Both players must have registered each other in their Friend Roster. A friend code looks like ####-####-####, or ????-????-???? in Animal Crossing: Wild World. #s and ?s represent numbers. To get one's friend code, they must go to the Town Gate and talk to Copper. They then must select "Friend Code!" and he will then assign them a friend code, though they must have Wi-Fi Connection from a router or USB cable for it to work. For more info on Wifi, see Nintendo Wi-Fi Connection. Once the friend code is obtained, a person can trade their code with a friend and visit each others towns. If only one person has registered the code, it will not work. Also, be careful if you move out of your town with a friend; that friend will also have to move out of their town. In Animal Crossing New Leaf, your mii will have the friend code. So you must return to the home menu and at the top left there will be an orange smiley face. Tap on it and it will take you to your main mii, If you do not have a mii yet you will have to create one in order to register you'll have to go to the Mii Plaza, if you already have a mii or just made on return back to the orange smiley and click on it. Then select your mii and at the bottom of it there will be a code like this but with numbers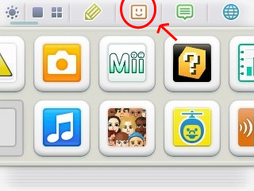 ????-????-???? Once you have your friend code you will need to tell the person who you want to play with to give them their friend code. You will then click register at the top of the screen and enter there friend code. Once you are both registered as friends it should say for ex " (Player) Is now your friend !" After that appeares return back to Animal crossing and open your gate at the train station.
However you cannot add someone whilst you are in someones town.
Be Cautious When Giving Unknown People Your Friend Code
Avoid inviting people you don't trust- If you give people you don't know your friend code, they have the ability to come to your town, chop down all your trees, steal flowers and other items, dig up holes everywhere, pick up your patterns you've worked so hard to lay down, and even hack your town by putting house and building seeds so you can't play in it anymore, known as destroying your town. They commonly do this by asking you to play hide-and-seek- don't do it! If you want to play hide-and-seek in the Museum, your choices are to play with someone you trust a-lot, or with the town's residents. (See Hide-and-Seek). Even if you turn off the power without saving, everything still stays the same since on WFC, everything saves automatically as you go. But remember: not all people are like this. Some simply want to explore another town, maybe get some new fruit, or look at some potential buys at Tom Nook's shop. We're not telling to not share your friend code; just be careful.