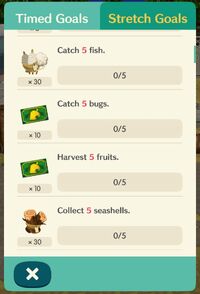 Goals (しずえチャレンジ, Shizue Charenji?, Isabelle Challenge) are a feature introduced in Pocket Camp which provide the player with tasks to complete. They are accessed by tapping the Isabelle icon to the right side of the screen. This opens a menu with a list of timed goals and stretch goals for the player to complete. The player can earn Bells, crafting materials, and Leaf Tickets from completing them. Goals that have been completed will be faded and have a present stamped on the goal's icon.
Timed Goals
Timed goals are time sensitive tasks for the player to complete. They are available to be completed for 24 hours before they are replaced with new timed goals.
Typical aims for these tasks include collecting crafting materials, fish, bugs, seashells, or fruit.
Rewards for these tasks are crafting materials.
Stretch Goals
Stretch goals are not time sensitive, and can be completed at the player's leisure.