Ad blocker interference detected!
Wikia is a free-to-use site that makes money from advertising. We have a modified experience for viewers using ad blockers

Wikia is not accessible if you've made further modifications. Remove the custom ad blocker rule(s) and the page will load as expected.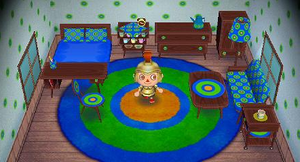 Gracie's Series
appears in both
City Folk
and
New Leaf
. It can be obtained during
summer
at
GracieGrace
in
City Folk
(
T&T Emporium
in
New Leaf
).  It is the most expensive set available from
Gracie
. The price is 2,436,000
Bells
(1,582,000 with the DLC in
City Folk
) for the full set. The furniture features Gracie's trademark pattern of green and orange circles on a blue background. Gracie's Series can be bought from June 1
st
until July 31
st
.
Mint owns the chest, Robin owns the bench and chest, and Moose owns the table and bench and in New Leaf.
City Folk
Furniture Items
All of the Gracie's Series items are listed below:
| Item Name | Buy Price | Sell Price | Color | Genres | Size (sq) | Function |
| --- | --- | --- | --- | --- | --- | --- |
| Gracie Bed | 120,000 | 30,000 | Blue/Brown | Trendy/Dignified | 4 | Bed |
| Gracie Bench | 110,000 | 27,500 | Brown/Colorful | Trendy/Dignified | 2 | Sitting |
| Gracie Chair | 90,000 | 22,500 | Brown/Colorful | Trendy/Dignified | 1 | Sitting |
| Gracie Chest | 220,000 | 55,000 | Brown (x2) | Trendy/Dignified | 2 | Storage |
| Gracie Desk | 90,000 | 22,500 | Brown (x2) | Trendy/Dignified | 2 | - |
| Gracie Lamp | 120,000 | 30,000 | Brown/Colorful | Trendy/Dignified | 1 | Light Source |
| Gracie Low Table | 68,000 | 17,500 | Brown/Colorful | Trendy/Dignified | 2 | Table |
| Gracie Shelf | 98,000 | 24,500 | Brown/Colorful | Trendy/Dignified | 1 | Clock |
| Gracie Wagon | 240,000 | 60,000 | Brown/Colorful | Trendy/Dignified | 1 | Rattles when moved |
| Gracie Wardrobe | 138,000 | 34,500 | Brown (x2) | Trendy/Dignified | 1 | Storage |
| Gracie Dresser (DLC) | 40,000 | 10,000 | Brown (x2) | Trendy/Dignified | 1 | Opens up |
Matching Wall and Floor
| Item Name | Buy Price | Sell Price | Available From |
| --- | --- | --- | --- |
| Gracie Wallpaper | 124,000 | 31,000 | GracieGrace |
| Gracie Carpet | 124,000 | 31,000 | GracieGrace |
New Leaf
Furniture Items
All of the Gracie's Series items are listed below:
| Item Name | Buy Price | Sell Price | Color | Genres | Size (sq) | Function |
| --- | --- | --- | --- | --- | --- | --- |
| Gracie Bed | 250,000 | 30,000 | Blue/Brown | Trendy/Dignified | 4 | Bed |
| Gracie Bench | 110,000 | 27,500 | Brown/Colorful | Trendy/Dignified | 2 | Sitting |
| Gracie Chair | 150,000 | 22,500 | Brown/Colorful | Trendy/Dignified | 1 | Sitting |
| Gracie Chest | 300,000 | 55,000 | Brown (x2) | Trendy/Dignified | 2 | Storage |
| Gracie Desk | 250,000 | 22,500 | Brown (x2) | Trendy/Dignified | 2 | - |
| Gracie Lamp | 120,000 | 30,000 | Brown/Colorful | Trendy/Dignified | 1 | Light Source |
| Gracie Low Table | 68,000 | 17,500 | Brown/Colorful | Trendy/Dignified | 2 | Table |
| Gracie Shelf | 350,000 | 87,400 | Brown/Colorful | Trendy/Dignified | 1 | Clock |
| Gracie Wagon | 300,000 | 60,000 | Brown/Colorful | Trendy/Dignified | 1 | Rattles when moved |
| Gracie Wall Clock | 150,000 | 37,500 | Brown/Colorful | Trendy/Dignified | 1 | Wall Clock |
| Gracie Wardrobe | 350,000 | 34,500 | Brown (x2) | Trendy/Dignified | 1 | Storage |
Matching Wall and Floor
| Item Name | Buy Price | Sell Price | Available From |
| --- | --- | --- | --- |
| Gracie Wallpaper | 124,000 | 31,000 | GracieGrace |
| Gracie Carpet | 124,000 | 31,000 | GracieGrace |