GracieGrace
Talk

4
1,761pages on
this wiki
GracieGrace


Service
Designer Store
Provides
Clothes,
Accessories,
Furniture
Opening hours
9:00am-9:00pm
6:00am-9:00pm* (Early Bird)
9:00am-12:00am* (Night Owl)
*Set by Town Ordinance
Appearances
Unknown
Regional names
Unknown
GracieGrace (also known as Gracie Grace or Gracie's Store) is a store that Gracie owns in Animal Crossing: City Folk. It is located in the city overlooking the center and city fountain. It features the original Gracie shirts from Animal Crossing and Animal Crossing: Wild World along with new Gracie designs. Some of them, such as the tuxedo, are newer versions of clothing from the Able Sisters store. New Gracie accessories are available too, as are furniture, wallpaper and carpet. All items are offered at a high price, but will be cheaper towards the end of the season. Because of her celebrity status, Gracie does not run the shop herself; Labelle the hedgehog fills in for her. Villagers can occasionally be inside GracieGrace, usually complaining about the high prices. Labelle, the store clerk, is a long lost sister of Mabel and Sable. Unlike her sisters, she works at a wealthy furniture/clothing store so her appearance and attire is much different.
Furniture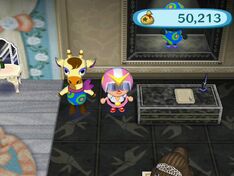 GracieGrace's furniture and clothes change seasonally, unlike Tom Nook's or the Able Sisters, which change daily.
In Animal Crossing: New Leaf, the store is inside T&T Emporium. The dates are as follows:
During the sales, spaces allocated for the furniture will have a "Sold Out" sign and a chance for a few pieces of the Card Deck series to be up for purchase.
Sales
There is a sale at the end of every season. They are as follows:
Starts the 15th of the last month with 20% off.
Starts the 21st of the last month with 30% off.
Starts the 26th of the last month with 50% off.
In City Folk
During the sales period, items may disappear and be replaced with a "sold out" sign, much like at Tom Nook's Store. This suggests that some villagers have bought things, though this cannot be seen by the player.
The player is also able to obtain a 10% discount by presenting to Gracie a complete look. The discount is available for as long as the player is in the store.
In New Leaf
In
Animal Crossing: New Leaf
items can still sell out, but instead of a "sold out" sign, they will be replaced with the wedding cake or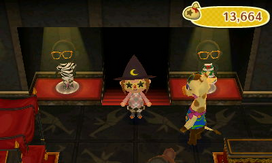 various items from the
Card Series
. Additionally, the female clothing section will be replaced with similar exclusives. These items are all new to New Leaf and can only be found during the end of season sales.
The wedding cake is a three-tier cake with bride and groom statuettes at the top. It is a season-end exclusive and costs 60,000 Bells. In the player's pockets it appears as a slice of cake much like the birthday cake, but unlike the birthday cake it cannot be eaten.
The Card Series consists of furniture sculpted out of traditional red and white playing cards.
Gallery
Trivia