Grass Deterioration
Talk

13
1,655pages on
this wiki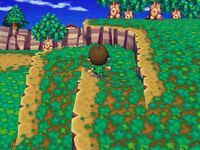 Grass Deterioration
, also known as
Animal Tracks
(from the Japanese term けもの道), or
Desire Lines
is a feature introduced by
Animal Crossing: City Folk
. The game is able to keep track of the
player
's movements throughout town, and will wear down the grass accordingly.
Desertification, aside from being ugly, can be a game-breaking issue, causing some insects, such as the Dung Beetle, and furniture, such as the Snowman Series, to be impossible to collect due to the loss of snowballs.
City Folk
Edit
Grass is worn down according to the current season, and the player's speed when moving over the tile. All movement does damage, and running does the most. Grass is most vulnerable during the winter and most resilient during the spring and summer. Each time the town is loaded, grass is worn down once more.
This feature was originally intended to create paths in frequently-traversed areas, which would add to the town's own unique character. But mostly this just messes up your town. In many instances the feature has run amok, almost completely obliterating all the grass in an entire town, especially when players are chasing after insects such as Banded Dragonflies or Giant Petaltails.
Prevention
Edit
In City Folk, using hacks is the only way to completely prevent any grass deterioration as all player movement wears down grass. Players can still take certain steps to stem desertification, such as by moving slower, reducing the number of times they load a town each day, and walking only along designated paths to limit wear to only those areas. Placing designs on the ground will not protect the tile, but can demarcate paths to follow consistently. Planting flowers can also prevent deterioration, as tiles with flowers will not wear down if it is stepped on only once daily.
Grass grows fastest in June, and slowest in December. Without being stepped on, it can take six months for grass to fully regrow, or one month if there is a healthy flower on a tile which is stepped on no more than once a day. Trees will also hasten the recovery rate by three times, as well as providing a physical barrier to prevent that particular tile from being trampled. Grass only recovers on days that the player loads the town--skipping time ahead by six months will not result in six months' worth of growth, and going backwards in time does not result in additional growth. Players should walk slowly if they must go over a recovering tile.
There is an online petition requesting that Nintendo release a patch over the Wi-Fi connection that will fix the grass growth issue. It should be noted that due to the software and hardware designs of the Wii, it may be impossible for Nintendo to fix the issue through a patch alone.
Grass Deterioration still exists in New Leaf, despite all the negative feedback it got previously. It is said that grass deterioration not only happens slower, but the damaged grass grows back to its original state sooner. However, there is more information still needed on the topic for Grass Deterioration in New Leaf.