Ad blocker interference detected!
Wikia is a free-to-use site that makes money from advertising. We have a modified experience for viewers using ad blockers

Wikia is not accessible if you've made further modifications. Remove the custom ad blocker rule(s) and the page will load as expected.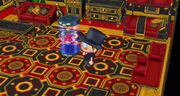 Gulliver's Treasury is an unofficial term for the group of furniture given to the player by Gulliver when he is found. 
Furniture from this set cannot be bought from the Catalog except in New Leaf. Only one piece can be obtained from Gulliver at a time.
In New Leaf the player must correctly answer a question based on the hints given by Gulliver. In all other games he gives items without any prior task other than waking him up or shooting him down.
In Wild World each piece is worth 412 HRA points.
List of Gulliver's treasure
| Item Name | Buy Price | Sell Price | Received By | Group | Color | Size (sq) | Info |
| --- | --- | --- | --- | --- | --- | --- | --- |
| | | | | | | | |
| Arc de Triomphe | N/A | 2,300 Bells | Gulliver | - | | 2 | All games. |
| Bagpipes | N/A | 300 Bells | Gulliver | - | | 1 | All games. |
| Chinese Lion | N/A | 1,200 Bells | Gulliver | - | | 2 | GCN games. |
| Chinese Lioness | N/A | 1,800 Bells | Gulliver | - | | 1 | GCN games. |
| Chocolates | N/A | 5,000 | Gulliver | - | | 1 | Wild World and City Folk. |
| Chocolate coin | N/A | 25 | Gulliver | - | | 1 | New Leaf if the player guesses the wrong country |
| Compass | N/A | 320 Bells | Gulliver | - | - | 1 | All games. |
| Fishing Bear | N/A | 680 Bells | Gulliver | - | - | 1 | GCN games. |
| Lady Liberty | N/A | 2,300 Bells | Gulliver | - | - | 1 | GCN games and New Leaf |
| Lollipop | N/A | ?,??? | Gulliver | - | - | 1 | |
| Manekin Pis | N/A | 1,300 Bells | Gulliver | - | - | 1 | All games. |
| Matryoshka | N/A | 980 Bells | Gulliver | - | - | 1 | All games. |
| Merlion | N/A | 2,300 Bells | Gulliver | - | - | 1 | All games. |
| Mermaid Statue | N/A | 1,900 Bells | Gulliver | - | - | 1 | All games. |
| Metroid | N/A | 3,000 Bells | Gulliver | - | - | 1 | Wild World and City Folk; also considered part of the Nintendo Set. Received in New leaf by a Fortune Cookie. |
| Moai Statue | N/A | 1,900 Bells | Gulliver | - | - | 1 | All games. |
| Mouth of Truth | N/A | 1,900 Bells | Gulliver | - | - | 2 | All games. |
| Pagoda | N/A | 1,280 Bells | Gulliver | - | - | 1 | All games. |
| Peace Sign | N/A | ?,??? | Gulliver | - | - | 1 | |
| Plate Armor | N/A | 1,850 Bells | Gulliver | - | - | 1 | All games. |
| Gulliver's Picture | N/A | ?,??? | Gulliver | - | - | 1 | Wild World only? |
| Shogi Piece | N/A | 1,250 Bells | Gulliver | - | - | 1 | GCN games and New Leaf. |
| Stone Coin | N/A | 1,400 Bells | Gulliver | - | - | 1 | GCN games. |
| Tiger Bobblehead | N/A | 580 Bells | Gulliver | - | - | 1 | GCN games. |
| Tokyo Tower | N/A | 1,150 Bells | Gulliver | - | - | 1 | GCN games. |
| Tower of Pisa | N/A | 2,300 Bells | Gulliver | - | - | 1 | GCN games. |
| Tribal Mask | N/A | 1,100 Bells | Gulliver | - | - | 1 | All games. |
| Tuk-Tuk | N/A | | Gulliver | - | - | 2 | New Leaf Only[citation needed] |