This article requires clean-up to meet the quality standards of the Animal Crossing Wiki.
Please edit this page to improve it. Feel free to discuss this cleanup on the article's talk page.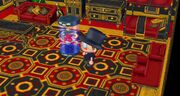 Gulliver's Treasury is an unofficial term for the group of furniture given to the player by Gulliver when he is found. Furniture from this set cannot be bought from the Catalog except in New Leaf, and only one piece can be obtained from Gulliver at a time. The Metroid is also considered part of the Nintendo Set.
In New Leaf, the player must correctly answer a question based on the hints given by Gulliver after finding him on the beach. In City Folk and Wild World, Gulliver must be shot down, found, and helped with finding parts of his now-broken space ship to receive the furniture. All other games feature Gulliver as a washed up sailor who rewards the player for waking him.
In Wild World each piece is worth 412 HRA points.
List of Gulliver's treasure
| Item Name | Buy Price | Sell Price | Received By | Group | Color | Size (sq) | Info |
| --- | --- | --- | --- | --- | --- | --- | --- |
| Arc de Triomphe | N/A | 2,300 Bells | Gulliver | - | - | | All games. |
| Bagpipes | N/A | 300 Bells | Gulliver | - | - | | All games. |
| Chinese Lion | N/A | 1,200 Bells | Gulliver | - | - | | GCN games. |
| Chinese Lioness | N/A | 1,800 Bells | Gulliver | - | - | | GCN games. |
| Chocolates | N/A | 5,000 Bells | Gulliver | - | - | | Wild World and City Folk. |
| Chocolate coin | N/A | 25 Bells | Gulliver | - | - | | New Leaf if the player guesses wrong |
| Compass | N/A | 320 Bells | Gulliver | - | - | | All games. |
| Fishing Bear | N/A | 680 Bells | Gulliver | - | - | | GCN games. |
| Lady Liberty | N/A | 2,300 Bells | Gulliver | - | - | | GCN games and New Leaf |
| Lollipop | N/A | ??? | Gulliver | - | - | | - |
| Manekin Pis | N/A | 1,300 Bells | Gulliver | - | - | | All games. |
| Matryoshka | N/A | 980 Bells | Gulliver | - | - | | All games. |
| Merlion | N/A | 2,300 Bells | Gulliver | - | - | | All games. |
| Mermaid Statue | N/A | 1,900 Bells | Gulliver | - | - | | All games. |
| Metroid | N/A | 3,000 Bells | Gulliver | - | - | | Wild World and City Folk; New Leaf via Fortune Cookie. |
| Moai Statue | N/A | 1,900 Bells | Gulliver | - | - | | All games. |
| Mouth of Truth | N/A | 1,900 Bells | Gulliver | - | - | | All games. |
| Pagoda | N/A | 1,280 Bells | Gulliver | - | - | | All games. |
| Peace Sign | N/A | ??? | Gulliver | - | - | | - |
| Plate Armor | N/A | 1,850 Bells | Gulliver | - | - | | All games. |
| Gulliver's Picture | N/A | ??? | Gulliver | - | - | | Wild World |
| Shogi Piece | N/A | 1,250 Bells | Gulliver | - | - | | GCN games and New Leaf. |
| Stone Coin | N/A | 1,400 Bells | Gulliver | - | - | | GCN games. |
| Tiger Bobblehead | N/A | 580 Bells | Gulliver | - | - | | GCN games. |
| Tokyo Tower | N/A | 1,150 Bells | Gulliver | - | - | | GCN games. |
| Tower of Pisa | N/A | 2,300 Bells | Gulliver | - | - | | GCN games. |
| Tribal Mask | N/A | 1,100 Bells | Gulliver | - | - | | All games. |
| Tuk-Tuk | N/A | 300 Bells | Gulliver | - | - | | New Leaf[citation needed] |