"ヤド力リを つかまえた! びきこもってちゃ ?メ!" —Animal Forest e+
Hermit Crab
200px

| | | | | | | |
| --- | --- | --- | --- | --- | --- | --- |
| AF | AF+ | AC | e+ | WW | CF | NL |
| – | – | – | – | – | – | – |

Location
Price
Crawling on beach
200 Bells
Size
Available in rain
45mm
Unknown
Time of year
Time of day
March to December
All Day
Scientific name
Coenobita cavipes
Family
Conenobitidae
Appearances
Animal Forest e+
Rarity
Rare (****)
Regional names
Unknown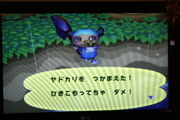 Hermit Crabs, a type of crab, are a bug that can be caught in Animal Crossing series. This bug can only be caught in the Japanese exclusive Animal Forest e+. They appear at first as a simple shell just above the beach, but when you go to pick them up they reveal their true self. If you leave them too long they will go back into their shell. It is more common during rain. They will disappear in the water if chased far enough.
It is more abundant from the month of June until September.
Further Information
In Japan, Hermit Crabs are known as yadokari (やどかり).