Ice Series
Talk

0
1,747pages on
this wiki
This article requires a cleanup to meet the quality standards of the Animal Crossing Wiki
Please edit this page to improve it. Feel free to discuss this cleanup on the article's talk page.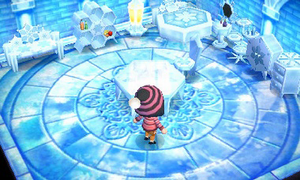 The Ice Series is a series of furniture in the Animal Crossing series. It first appears in Animal Crossing: New Leaf.
The series consists of furniture sculpted out of ice to create various usable items of furniture with hexagonal elements, most likely to resemble snowflakes and the crystalline structure of ice. The matching wallpaper is made of blocks of ice resembling bricks, stacked up to create walls that reach to the ceiling. The matching carpet is completes the ice theme by having a large snow flake design in the center, with blocks of ice in a circular pattern, to imitate an igloo. The Ice series is a special series that comes from the winter season (Dec 1st to Feb 25th). If you make Snowmam she will ask you to catch Snowflakes for her, in exchange she will give you a different piece of the set each time until you have the whole set in your possesion. To get the items you must give her 5 snowflakes (only if she is happy with the way you make her).
Like other special items, they can be sold for a pretty high price.
Furniture Items
| Item Name | Buy Price | Sell Price | Available From | Color | HHA Theme | Size (sq) | Info |
| --- | --- | --- | --- | --- | --- | --- | --- |
| Ice Bed | - | 8,888 | Snowman | Aqua (x2) | Fairy Tale | 4 | Bed |
| Ice Chair | - | 8,888 | Snowman | Aqua (x2) | Fairy Tale | 1 | Chair |
| Ice Clock | - | 8,888 | Snowman | Aqua (x2) | Fairy Tale | - | Wall |
| Ice Closet | - | 8,888 | Snowman | Aqua (x2) | Fairy Tale | 2 | Storage |
| Ice Dresser | - | 8,888 | Snowman | Aqua (x2) | Fairy Tale | 1 | Storage |
| Ice Lamp | - | 8,888 | Snowman | Aqua (x2) | Fairy Tale | 1 | Lamp |
| Ice Shelf | - | 8,888 | Snowman | Aqua (x2) | Fairy Tale | 2 | - |
| Ice Side Table | - | 8,888 | Snowman | Aqua (x2) | Fairy Tale | 1 | - |
| Ice Sofa | - | 8,888 | Snowman | Aqua (x2) | Fairy Tale | 2 | Chair |
| Ice Table | - | 8,888 | Snowman | Aqua (x2) | Fairy Tale | 4 | Table |
| Ice Vanity | - | 8,888 | Snowman | Aqua (x2) | Fairy Tale | 1 | - |
Matching Wall and Floor
| Item Name | Buy Price | Sell Price | Avaiable From | Group | HHA Theme |
| --- | --- | --- | --- | --- | --- |
| Ice Floor | - | 8,888 | Snowman | - | Fairy Tale |
| Ice Wall | - | 8,888 | Snowman | - | Fairy Tale |
Gallery