Jack
Talk

8
1,759pages on
this wiki
Jack (パンプキング, Panpukingu?, Pumpking), the self-proclaimed Czar of Halloween, is a character from the Animal Crossing series whose species is specter. He appears once a year for Halloween from 6:00 PM until 1:00 AM the following day. He distributes spooky furniture, which can only be obtained through him. He wears a pumpkin on his head which, during Halloween, makes him indistinguishable from other villagers who will also ask for candy. Jack, like all other holiday-related characters, was absent from Animal Crossing: Wild World, as was Halloween and candy.
Aspects
Jack wears a orange pumpkin with hollowed out eyes, circle nose, and a jagged mouth smile as his head. He wears a dark blue robe with lighter trim lines on his arms and the bottom of the robe. He wears black gloves on his hands and black boots on his feet.
Appearances
In Animal Crossing

In Animal Crossing, he will be somewhere in town during Halloween. Unlike the other villagers, who wear the same clothing as him, he will not chase you. This is the same for Mayor Tortimer, who on the night will give the player a model of Katrina's tent. Upon talking to Jack, he will give the player an item of spooky furniture in exchange for candy. Doing this throughout the event will complete the set.
In Animal Crossing: Wild World
Jack does not feature in Wild World, however it could be thought that the pumpkin that appears in the Jack-in-the-box item could be a reference to Jack.
In Animal Crossing: City Folk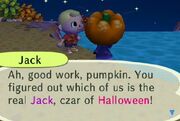 Jack returns in Animal Crossing: City Folk with Halloween and candy. He was announced on the Japanese website for City Folk, along with other characters. His role remains the same as in Animal Crossing, and he now calls himself the Czar of Halloween. He sends a letter out to players earlier in the month, warning of his arrival, and telling them to have candy ready. Nook's store starts selling candy on the 1st of October.
Spooky Series
Jack gives a piece of furniture every time the player gives him candy. All the furniture pieces look like pumpkins or Jack O'Lanterns. They are orange and, like all holiday-exclusive furniture sets, score very highly with the Happy Room Academy.
Spooky Wall
Spooky Carpet
Spooky Bed
Spooky Bookcase
Spooky Lamp
Spooky Wardrobe
Spooky Sofa
Spooky Chair
Spooky Dresser
Spooky Vanity
Spooky Table
Spooky Clock
Spooky Paper
Jack O'Lanterns, Jack-in-the-Boxes, and Ragged Shirts are arguably considered part of the Spooky Series. There is also a Spooky Shirt, which is not given to the player by Jack, but by Gracie or Wisp.
Trivia
His Japanese name, Pumpking, reflects his self-given title, which is a portmanteau of "Pumpkin" and "King."
Jack could be a parody off of Tim Burton's famed character of the same name, "Jack," who was also proclaimed the "King of Halloween" This character had been immortalized in the famed movie, The Nightmare Before Christmas. All pumpkin characters, such as Tim Burton's character, are named "Jack" because of the traditional name "Jack O'Lantern". The name comes from an Irish folktale about a man named Stingy Jack. (see references: Here)

The name could also very likely be named after Jack Pumpkinhead, from the Oz Fantasy novels, a character with a pumpkin for a head very much like the character in this game.

One easy way to find Jack is to dig holes in front of everyone's house before 6:00 PM so they can't get to you, or just wear a matching outfit.
Other townsfolk will approach you trying to obtain candy when you come close, but Jack will not. Seeing if a character comes towards you when you stand somewhat close to them is a good test to see if you have found the true Halloween king. (Excluding new leaf)
Gallery
Below are some images, including the letter given to players by Jack, warning of his arrival.
Animal Crossing
City Folk
New Leaf