Jacques
Talk

0
1,759pages on
this wiki
"I'm an enthusiast, but I'm absolutely not a geek!"
— Jacques, Animal Crossing: New Leaf
Jacques
Gender
Male
Personality
Smug
Species
Bird
Birthday
June 22nd
Star Sign
Cancer
Initial Phrase
"zut alors"
Initial Clothes
Red Flannel Shirt
Picture Quote
(New Leaf)
"Better to have loved and squawked than to have never loved at all."
Coffee
House blend, lots of milk, 3 spoonfuls of sugar
Appearance(s)
Animal Crossing: New Leaf

Jacques (ジョッキー, Jokkī) (Gorrelmo in Spanish) is a smug bird villager that first appeared in Animal Crossing: New Leaf. His name in both languages comes from a Disk Jockey (aka, DJ) In addition, his name is French for Jack in English, similiar to his French catchphrase.
Appearance
Jacques has a full black body, and a yellow beak. His eyes are always half closed, and are blue in color. He has brown eyebrows, as well as a brown goatee visible on his chin. On his head is a green knit cap. The character is likely meant to resemble renowned oceanographer Jacques Cousteau, who also wore a knit cap.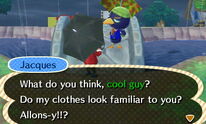 Personality
He is a smug character, meaning if the player is a girl, he will flirt with them on occasion. His name and initial catchphrase, "zut alors" (meaning something along the lines of "oh darn" in french) seem to imply that he is French in nationality.
House
Jacques has K.K. House playing in his house.