Ad blocker interference detected!
Wikia is a free-to-use site that makes money from advertising. We have a modified experience for viewers using ad blockers

Wikia is not accessible if you've made further modifications. Remove the custom ad blocker rule(s) and the page will load as expected.
The Jingle Series (クリスマスシリーズ, Kurisumasu Shirīzu?, Christmas) is a series of furniture in the Animal Crossing series. This furniture can only be obtained by talking to Jingle on Christmas Eve. This series was omitted from Wild World along with other seasonal furniture series, like the Spooky Series. All items sell for 12,240 Bells which reflects the date of Christmas Eve in the American format - 12/24.
Furniture Items
Animal Crossing (GCN)
| Item Name | Buy Price | Sell Price | Available From | Group | Color | Size (sq) | Info |
| --- | --- | --- | --- | --- | --- | --- | --- |
| Jingle Bed | - | 12,240 | Jingle | - | Red | 2 | Bed |
| Jingle Shelves | - | 12,240 | Jingle | - | Red | 1 | - |
| Jingle Piano | - | 12,240 | Jingle | - | Red | 2 | Usable |
| Jingle Dresser | - | 12,240 | Jingle | - | Red | 2 | Storage |
| Jingle Table | - | 12,240 | Jingle | - | Red | 4 | Table |
| Jingle Wardrobe | - | 12,240 | Jingle | - | Red | 1 | Storage |
| Jingle Sofa | - | 12,240 | Jingle | - | Red | 2 | Chair |
| Jingle Lamp | - | 12,240 | Jingle | - | Red | 1 | Lamp |
| Jingle Clock | - | 12,240 | Jingle | - | Red | 1 | - |
| Jingle Chair | - | 12,240 | Jingle | - | Red | 1 | Chair |
City Folk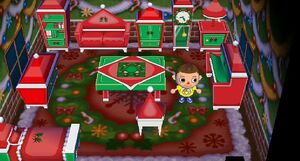 | Item Name | Buy Price | Sell Price | Available From | Color | Genres | Size (sq) | Info |
| --- | --- | --- | --- | --- | --- | --- | --- |
| Jingle Bed | - | 12,240 | Jingle | Red/Green | Trendy/Playful | 2 | Bed |
| Jingle Shelves | - | 12,240 | Jingle | Red/Green | Trendy/Playful | 1 | - |
| Jingle Piano | - | 12,240 | Jingle | Red/Green | Trendy/Playful | 2 | Usable |
| Jingle Dresser | - | 12,240 | Jingle | Red/Green | Trendy/Playful | 2 | Storage |
| Jingle Table | - | 12,240 | Jingle | Red/Green | Trendy/Playful | 4 | Table |
| Jingle Wardrobe | - | 12,240 | Jingle | Red/Green | Trendy/Playful | 1 | Storage |
| Jingle Sofa | - | 12,240 | Jingle | Red (x2) | Trendy/Playful | 2 | Chair |
| Jingle Lamp | - | 12,240 | Jingle | Red/Green | Trendy/Playful | 1 | Lamp |
| Jingle Clock | - | 12,240 | Jingle | Red/Green | Trendy/Playful | 1 | - |
| Jingle Chair | - | 12,240 | Jingle | Red (x2) | Trendy/Playful | 1 | Chair |
| Jingle TV | - | 12,240 | Jingle | Red/Green | Trendy/Playful | 1 | TV |
Matching Wall and Floor
| Item Name | Buy Price | Sell Price | Available From | Group |
| --- | --- | --- | --- | --- |
| Jingle Wall | - | 12,240 | Jingle | - |
| Jingle Carpet | - | 12,240 | Jingle | - |
New Leaf
| Item Name | Buy Price | Sell Price | Available From | Color | Genres | Size (sq) | Info |
| --- | --- | --- | --- | --- | --- | --- | --- |
| Jingle Bed | 4,896 | - | Timmy & Tommy | Red/Green | Toy Shop | 2 | Bed |
| Jingle Shelves | 4,896 | - | Timmy & Tommy | Red/Green | Toy Shop | 1 | - |
| Jingle Piano | 4,896 | - | Timmy & Tommy | Red/Green | Toy Shop | 2 | Usable |
| Jingle Dresser | 4,896 | - | Timmy & Tommy | Red/Green | Toy Shop | 2 | Storage |
| Jingle Table | 4,896 | - | Timmy & Tommy | Red/Green | Toy Shop | 4 | Table |
| Jingle Wardrobe | 4,896 | - | Timmy & Tommy | Red/Green | Toy Shop | 1 | Storage |
| Jingle Sofa | 4,896 | - | Timmy & Tommy | Red (x2) | Toy Shop | 2 | Chair |
| Jingle Lamp | 4,896 | - | Timmy & Tommy | Red/Green | Toy Shop | 1 | Lamp |
| Jingle Clock | 4,896 | - | Timmy & Tommy | Red/Green | Toy Shop | 1 | - |
| Jingle Chair | 4,896 | - | Timmy & Tommy | Red (x2) | Toy Shop | 1 | Chair |
| Jingle TV | 4,896 | - | Timmy & Tommy | Red/Green | Toy Shop | 1 | TV |
Matching Wall and Floor