K.K. Slider
Talk

60
1,748pages on
this wiki
"Those industry fat cats try to put a price on my music, but it wants to be free."
— K.K. Slider, Animal Crossing: Wild World
K.K. Slider (とたけけ,, Totakeke?), commonly known as K.K., is a dog who has appeared in all of the Animal Crossing games to date. His purpose is performing music for the player.
There are a total of 55 songs in the original Animal Crossing, 70 songs in Wild World, 75 in City Folk, and 91 in New Leaf. A full list of his songs can be found here.
His birthday was revealed in Animal Crossing Plaza. Like other special characters that appear in Animal Crossing: New Leaf, he does not celebrate it.
Personality
K.K. Slider is a hippie-style traveling musician, which is reflected in his mellow speech towards the player. He comes across as someone who wants to be liberated, as shown by his rebellion against putting a price on his songs. This adds to the musician stereotype of going against a particular norm. Though oddly despite that, his songs are for sale in New Leaf for 3200 bells when Timmy and Tommy upgrade enough, either he became a sellout or they are bootleg, the latter seems more likely. K.K. has an obvious passion for performing for others, as he offers to play for people on a weekly basis. In Wild World, he seems to know Brewster fairly well.
Appearances
In Animal Forest and Animal Crossing
In the GCN games and the N64 game, K.K. Slider is seen sitting on the stool close to the Train Station found from 8:00 PM to 12:00 AM on Saturday. He still has the same role, to request or ask a song or for him to choose. He is also seen when the games are started and booted up.
In Animal Crossing: Wild World
In Wild World, K.K. now plays his music at The Roost on Saturday evenings, from 8:00 PM to 12:00 AM. The player may request a song, otherwise K.K. will sing a randomly selected song. After the performance, the player receives a free copy of the song that was played. The copy of the song can then be deposited and used in any stereo in the player's house. He is also involved in the Golden Axe Trading Event, where he trades the player his picture when given the country guitar (which is received from Wendell).
In Animal Crossing: City Folk
"Hey, man. Who hipped you to that tune, June? Stale Cupcakes is one of my secret numbers."
— K.K. Slider, when requested to play Stale Cupcakes, Animal Crossing: City Folk
K.K. has a similar role in City Folk as he does in previous games. Now, he gives encores of his music. However, the encores are not added to the dock of the player. As in Wild World, he is seen in The Roost on Saturday nights, from 8:00 PM. to midnight. If the player decides to request a song, they are required to type it in. Or the player can choose a song by mood or let him pick a random song. The game credits play while he plays a song.
In Animal Crossing: New Leaf
In Animal Crossing: New Leaf, K.K. appears on stage on Saturday nights after 8:00 pm inside Club LOL, owned by Dr. Shrunk. From Sunday to Friday, he takes on the guise of DJ. K.K., performing a variety of different songs based on themes. On the first performance as K.K. Slider, he will randomly pick one of the new songs introduced in New Leaf. Afterwards, the player is allowed to request a song by specific title or mood. Players will get the first song he plays, but not the rest.
His songs now come with unique album covers. These album covers now make it possible to hang copies of his songs on the walls.
| | | |
| --- | --- | --- |
| | Warning: Spoilers start here. | |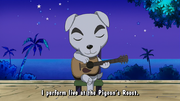 K.K. Slider has a minor role in the film. Margie requests that he should play K.K. Rhythm.
| | | |
| --- | --- | --- |
| | Spoilers end here. | |
Cameo
K.K. Slider makes a cameo in Super Smash Bros. Brawl and Super Smash Bros. Melee appearing as a trophy as well as being one of the special characters and appearing in a screenshot in the stages.
Melee Trophy Information
A wandering musician whose daily life is a bit of a mystery. He plays in front of the train station every Saturday night starting at 8:00 PM. He has a large repertoire and plays old and new hits from all over the world. His music is so ingrained in the villagers that it's impossible to imagine them living without it.
Brawl Trophy Information
"A wandering musician. He plays concerts every Saturday night at the Roost in the basement of the museum. All he carries is a single acoustic guitar, but he can play music from all genres. You can request a single tune per concert, and afterward he will give you a recording of the song to take home. In Animal Crossing: Wild World, his playlist included 70 songs.
"
Trivia
In Animal Crossing, K.K. does in fact say his name is Totakeke, but prefers to just be known as K.K. Slider. He has not mentioned this in subsequent English releases, however.
K.K. is based on an Animal Crossing sound designer, Kazumi Totaka. His Japanese name is taken from the fact that, in Japan, last names are written first, so it would be Totaka Kazumi. That can be shortened to "Totaka K.," which sounds like "Totakeke."
His songs only use the sounds "Queh," "Quay," "O," "Ah," "Me," "Na," "Now," "Le," "Moo," and, in some songs, he will howl, whistle, click, and hum.
The only song with actual lyrics is K.K. Bossa.
K.K. Slider plays a Country Guitar, also known as an acoustic guitar.
He was the first character to appear in an Animal Crossing game, being the first character to appear in Animal Forest and Animal Crossing, asking the player some questions after the title screen.
If a song is requested that K.K. does not know, K.K. will play a random background tune and tell the player he does not know that particular song. In Wild World, these songs became real songs, and three new songs replaced them. Likewise, in City Folk, K.K. Slider's "fake" songs are not the same as in Wild World. One such song is the same tune played when visiting the Island in the original Animal Crossing.
In the original four games, Copper, the police dog, always wishes to listen to some of K.K.'s songs, though he denies his desire when asked about it.
In Animal Crossing, K.K. will appear in a spot-lighted room if a memory card has not been inserted.
His famous quote "Those industry fat cats try to put a price on my music, but it wants to be free" has been mentioned on various news websites regarding illegal file sharing.[1]
One of K.K. Slider's songs is actually a song called Totaka's song, made by then Animal Crossing sound designer. The song appears in a lot of games he has worked on. In the Animal Crossing games, Totaka's song is referred to as K.K. Song.
He appears alongside Rosie and Tom Nook in the 2010 Nintendo Collector's Edition of Monopoly.
In Animal Crossing, peppy villagers say that his eyebrows are so thick it looks like someone drew them with a marker.
In Animal Crossing: New Leaf, he sometimes says "I'm ready like Freddy, so sit and be steady."This is a reference to the music video "Are You Ready For Freddy". This also makes sense as K.K. Slider is a music player.
In Animal Crossing: New Leaf, one of the fake songs he plays is the City theme from Animal Crossing: City Folk
Gallery
Animal Crossing
Wild World
City Folk
New Leaf
Merchandise
Coffee preference
DJ K.K. likes Blend Coffee with no milk or sugar.
References