Katrina
Talk

9
1,759pages on
this wiki
"And remember that bad times... are just times that are bad."
— Katrina, Animal Crossing: New Leaf
Katrina (ハッケミィ, Hakkemī?) is the fortune teller in the Animal Crossing series. Her name is a pun on "cat" while also alluding to the real life name of the same spelling. Her German name comes from Esmeralda.
Appearance
Katrina is a navy blue female Panther, with dark purple eyeshadow and bright almond shaped orange eyes. She tells the player their fortune and appears in all of the games in the Animal Crossing series. She has a male voice like Gracie and Saharah (who are both male in Japan), but in Animal Crossing: Wild World,Animal Crossing: City Folk, and Animal Crossing: New Leaf she has the voice of a normal villager.
Some villagers, especially cranky villagers sometimes speculate that Katrina works illegally (like Redd). Her shop in City Folk is hidden away like Redd's tent which is covered in ivy, and has a poster covering the only window so whatever is inside cannot be seen.
Role
In Animal Forest
Katrina's tent will appear outside on a random day of the week in a random acre. If you speak to Copper, he will tell you which acre she is in. She can tell the player their fortune for 100 Bells. Her tent is red, green, and gold on the outside, and dark purple on the inside. She stands behind a purple desk that has cards, a crystal ball, some bells, and two small flaming torches. Katrina appears with the same role as in Animal Crossing. She wears a white headband instead of her usual one.
In Animal Crossing
In Animal Crossing Katrina has an identical role to Animal Forest. However, her service now only costs 50 Bells instead of 100.
In Animal Crossing: Wild World
Katrina's tent will appear randomly in front of Town Hall once a month. She can tell the player their fortune for 100 Bells. She can tell him/her what will happen tomorrow. The player can also have their spirit cleansed for 10,000 Bells, which stops them from tripping over. Her tent is open from 9:00 A.M. to 9:00 P.M.
In Animal Crossing: City Folk
Katrina can be found in the city in the building furthest to the right. If you have told a villager your birthday she will greet the player by the player's zodiac sign. She can tell the player their fortune, which can last a week, and/or she can give the player a charm for that month, usually involving strange tasks. However, the player who is given the fortune cannot obtain the charm -- the task stated by Katrina needs to be done by a visiting player and that visitor will obtain the charm. No matter what you ask her to do, she will always have a heavy item such as an anvil or wash pail drop on your head. It will make your character wobble, be dizzy, and have stars flying around their head.
Sometimes Jock villagers will say walking into her shop is scarier than doing a 360 on a skateboard.
In Animal Crossing: New Leaf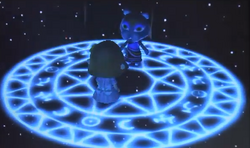 Katrina returns to having a tent once again, and can be found at the
Plaza
. Katrina will tell you your fortune for 500 Bells. When telling a fortune, her tent disappears and she and the recipient are surrounded by stars, or what Katrina calls the Star Matrix. After you have received 20 fortunes, the 
Fortune Shop
 will be available as a public works project where the Fortune Shop will be built next to the Dream Suite in 
Main Street
, where you are able to get to Katrina more frequently, as in her tent she is only available once a week. As in the previous games, besides
Animal Crossing: City Folk
, the Player would have to call 
Rover
, to bring Katrina along with her tent to your town.
Fortunes
The below fortunes are the responses given by Katrina to the player.
Popular/Fortune upon love: Villagers of the opposite gender will take a liking to you.
Support/Fortune upon friendship: Villagers of the same gender will be supportive.
Unpopular/Disaster upon love: Villagers will avoid you.
Lucky Finances/Fortune upon wealth: You'll earn and find more Bells than normal.
Lucky Materials/Fortune upon items: It will become easier to acquire rare items.
Unlucky/Disaster upon health: You'll fall down and trip a lot.
Trivia
Katrina's tent contains various Legend of Zelda references. These include pots that bare a resemblance to The Legend of Zelda: The Wind Waker's water jugs, and a Triforce emblem on the back interior of her tent.
Gallery
Animal Crossing
City Folk
New Leaf