Kicks
Talk

6
1,759pages on
this wiki
This article is about the character from the Animal Crossing series. For the store, please see Kicks (Store).

"It'll just take a kick or two."
— Kicks, Animal Crossing: City Folk
Kicks (シャンク, Shanku?, Shank) is a new character, introduced in Animal Crossing: City Folk. He is a male skunk, who, in Animal Crossing: City Folk, shines shoes for a living in the city on fair weather days. He can be found outside the run-down building between Lloid's auction house and Shampoodle. This building used to be owned by Brewster, as he reveals when he says he used to own a place in the city that did bad business and is boarded up now. Now, in Animal Crossing: New Leaf, he runs a shoe shop named Kicks, which sells both shoes and socks. The name "Kicks" is a pun on the slang word for tennis shoes, "kicks."
Appearance
Kicks is a skunk. His fur is black with white and light blue lines running down from his nose to his tail. His eyes are dark purple and he has a light pink nose. For apparel, he wears a brown hat, along with brown suspenders, and brown boot-like shoes.
In Animal Crossing: New Leaf, he wears a white t-shirt with his outfit. It is button closed and has two pocket protectors. Its collar is folded and the sleeves are cuffed.
In Animal Crossing: City Folk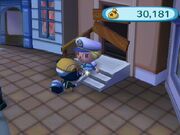 If the player buys his services for 500 Bells, Kicks' shoe-shine will change the color of the player's shoes to match his or her hair or outfit (not including pattern-made shirts which produce the defaults). If the shoes do not change colors, Kicks will not charge for his services.
There are only a select number of shoe patterns which can match each hair and outfit combo. Kicks only comes on fair weather days, and even if the player time travels, Kicks will still appear. The player's shoes' appearance can only be changed once a day and affects Gracie's appraisal. He will sometimes ask if the player would like a masculine or feminine shine.
In Animal Crossing: New Leaf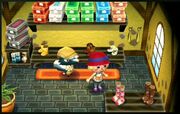 Kicks owns his own store, which is also called Kicks. It can be constructed in the Player's Town by spending 8,000 Bells in the Able Sisters' store. Once bought, it will take three days to build and will be built next door the to the Able Sisters' store.
The player can buy shoes and socks to further customize their outfit. In previous games, the player can only change the color or style of shoes to match an outfit.
Trivia
In Animal Crossing: New Leaf, like Labelle, Kicks will react to most negative emotions, such as "Sheepishness" and "Worry," and will only react to very few positive emotions.
Kicks' name is from the slang word for shoes.
In Animal Crossing: New Leaf, the song playing in the store is based upon the theme song of Eureka
Gallery
City Folk
New Leaf
Coffee preference
Kicks likes Mocha with no milk and one spoonful of sugar.