This article is about a squirrel villager from the Animal Crossing series. For the kangaroo villager, see Kitt.

Kit
キット Kitto
Birthday
Unknown (Unknown)
Initial phrase
contribution
Initial clothes
Jagged Shirt
Appearances
AFe+
Kit (キット,, Kitto?) is a jock squirrel villager from the Animal Crossing series, only appearing in Animal Forest e+. He could only move into a village if the player has his e-reader card.
Appearance
Kit is a red and gray squirrel. His arms and legs are red and tipped white. His ears are round and are red, while the inside is white. He has a white tail with a gray swirl, and he has blue eyes with a sparkle. His initial shirt is the jagged shirt.
Personality
Below is a brief description of the jock personality. For more information, click here.
Jock villagers usually appear to have a large amount of energy and are very interested in sports and bodybuilding. They can also be egotistical at times and are somewhat dense. As a jock villager, Kit will be very interested in his
hobby
and will often ask to compete with the
player
to see who can catch a certain fish or bug the fastest. Kit will easily get along with
peppy
villagers, who share similar traits. However, he will find it difficult to converse with
lazy
,
snooty
, and
cranky
villagers, as he will often not understand the conversation.
House
Kit has many items from the Fruit Set, such as the Watermelon Chair, the Watermelon Table, the Pineapple Bed, and the Pear Wardrobe. He has three gyroids, and three umbrellas, as well as a round cactus. He displays Tom Nook's Picture on top of his Watermelon Table. His house is the same as Bubbles's house, with the only difference being the Blue Wall, and the Kitchen Tile.
Trivia
Kit bears a strong resemblance to Conker the squirrel from Conker's Pocket Tales and Conker's Bad Fur Day.
Gallery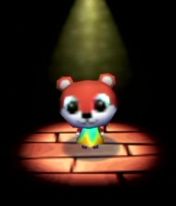 This villager article is a stub. You can help the Animal Crossing Wiki by expanding it
.