Klaus
クマロス Kumarosu

"Pride goes before a fall."

| | | |
| --- | --- | --- |
| Gender | Personality | Species |
| Male | Smug | Bear |

Birthday
March 31st (Aries)
Initial phrase
strudel
Initial clothes
Gold Armor Suit
Home request
An ancient bathhouse
Skill
Debating
Goal
Politician
Coffee
Blue Mountain,
Just a little bit of milk,
1 spoonful of sugar
Style
Historical
Favorite song
K.K. Milonga
Appearances
NL, HHD
Regional names
Klaus
Grischa
Gruñerto
Maciste
Klaus (クマロス,, Kumarosu?) is a smug bear villager who first appeared in Animal Crossing: New Leaf. His name may be in reference to a bear's "claws." He is possibly German, because Klaus is a common German name, and 'strudel' is a German dessert. He appears on the album cover for Café K.K.
Appearance
Klaus is a gray bear, with dark gray cheeks. His nose is also gray, with a tint of green in it. He has small black eyes, and appears to be frowning. The insides of his ears are dark brown and black. He may have blond hair, however this could be headgear. He can be mistaken as a cranky villager, due to his unhappy looks, but he is a smug one.
Personality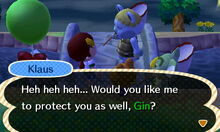 Klaus has a smug personality. This means he will appear kind and gentlemanly when in conversation with the player. On numerous occasions, he will flirt with the player and admire them. Klaus will occasionally talk about being into niche hobbies, like being a train fanatic or collecting plastic bottle caps. He will be very interested in fashion and will mention it often in conversations and letters.
House
K.K. Milonga
plays on his Retro Stereo.
Trivia
Klaus's face, hairstyle, initial armor clothing, and enjoying the historical style, he is based on Julius Caesar. Also his birthday is in March, the infamous month Julius Caesar was assassinated in. Also noted the fact his home in Happy Home Designer he wants an ancient roman bathhouse. Though this mostly seems to have been lost in translation. Making him German instead.
Gallery