Klaus
Talk

0
1,759pages on
this wiki
Klaus
Gender
Male
Personality
Smug
Species
Bear
Birthday
March 31st
Star Sign
Aries
Initial Phrase
"strudel"
Initial Clothes
Gold Armor Suit
Picture Quote
(New Leaf)
"Pride goes before a fall."
Appearance(s)
Animal Crossing: New Leaf

In other languages
Maciste
Gruñerto
Klaus (クマロス, Kumarosu) is a Smug Bear villager that first appeared in Animal Crossing: New Leaf. His name may be in reference to a bear's "claws." He is possibly German, because Klaus is a common German name, and 'strudel' is a German dessert.
Appearance
Klaus is a gray Bear, with dark gray cheeks. His nose is also gray, with a tint of green in it. He has small black eyes, and appears to be frowning. The insides of his ears are dark brown and black. He may have blond hair, however this could be headgear. He can be mistaken as a cranky villager, but he is smug.
Personality
Below is a brief description of the smug personality. For more information, click here.
Klaus is a smug villager, which is a new type of personality in New Leaf. He is very polite and kind, getting along with most, if not all, other villagers. He enjoys anime, as well as collecting bottle caps and trains. He claims that he is an enthusiast, not a nerd, and begs the player to not get the two confused with him.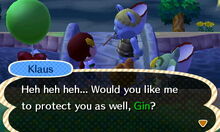 His sign is Aries, and favorite saying is, "Pride goes before a fall.".
He will be very sweet, kind, and gentlemanly to players, occassionally making the point to flirt with female characters and the player (regardless of gender).
House
K.K. Milonga plays on his Retro Stereo .