Festivale
Talk

6
1,747pages on
this wiki
Festivale (カーニバル, Carnival) is a Spring event that happens in February or March depending on the year. Pavé hosts the event in front of Town Hall. During the event, confetti will be raining down from the sky. As some neighbors will tell you, there will be no snow or rain during the entire day. Festivale is quoted (by Nintendo Power) as an 'all-day festival of color, costumes and craziness!'
Events
In all installments, the player is given the objective of gathering items requested by Pavé during the festivities. In obtaining the items, Pavé will reward the player with items from the Pavé Series of furniture. Villagers will also join in the festivities, challenging the player in a series of games.
In Animal Crossing: City Folk, the player must collect candy. In Animal Crossing: New Leaf, the player must collect feathers.
In Animal Crossing: City Folk
During the day, neighbors walking around the town will challenge the player to a number of games to win candy. However, if you lose you have to give some candy or 500 Bells. If you have none of the two, the neighbor will randomly choose an item, i.e. furniture. There is no limit of how many games you can play with the neighbors, but only the ones outside of their homes play games.
The games are as follows:
Imaginary Soccer - The neighbor will pretend to be a sports commentator and will act out a soccer scene. In response, the player have to select either I'll kick left/right or I'll protect left/right. You have to score or protect two times in a row. This will result in the neighbor giving you a random colored item of candy.
Rock, Paper, Scissors - The neighbor will play a word game of rock, paper, scissors and they will shout their answer. The player has to be the first to get it right two times in a row to win a randomly selected item of candy.
Coin Toss - The neighbor will pretend to flip a coin and will ask you what side you think it will be facing up. You have to do this 3 times in a row - if you lose the second or third time, you lose the game. When you win, you can pick what color candy you want to receive.
What hand the candy is in - The neighbor will ask you which hand you think the candy is in. You have to get it right two times in a row out of two goes. Once you win, you get a random piece of candy.
Psychic/ESP Test - The neighbor will ask you what you think the image in their mind is of. You have to get both questions right to get the candy. The first question is out of 3 shapes; either circle, triangle, and square. The second question is what fruit you think they can picture in their mind: apple, peach, orange, cherry and pear (occasionally, none will be an option in place of one of the fruit options). If the player wins, they get to pick what color candy they receive.
The candy the player has won can be given to Pavé, who will exchange it for furniture in the Pavé Series.
Candy
Candy is won during the events of Festivale, and can be supplied to Pavé depending on the color that he requests. Some candy can be collected before Festivale by buying it from the town store during the event. The player may also use candy collected from previous events, such as Halloween or Bunny Day. The player will also receive candy from town villagers.
Each color of candy represents a type of feeling/mentality, which Pavé will describe when he received them. These are described below:
Green Candy - Calm/relaxed. Pavé will announce he is hyper (possibly after eating Blue Candy), and will ask for Green Candy to calm down. "Relaxing, like a stroll in park! The green kind!"
Blue Candy - Refreshing. Pavé will say he is getting tired. "Refreshing, like cold wind! The blue kind!"
Red Candy - Explosive. Pavé demands something juicy, "The red kind, like a strawberry explosion!"
Yellow Candy - Zesty. Pavé will annouce that he has run out of "zest" in his dance. "Puckery, like lemonade! The yellow kind!"
In Animal Crossing: New Leaf
In Animal Crossing: New Leaf, Festivale differs slightly than to what it did in City Folk. All villagers who can be found walking around the town will wear a headdress with a flower pointing out of the top.
The objective for the player has also changed. Instead of obtaining candy, the player is sent to find feathers by Pavé, which must be collected using a net. During the day, feathers will be falling from the sky amongst the confetti, making it challenging to identify the correct color of feathers.
Obtaining the correct number of the specific color of feathers requested by Pave, or by catching a rainbow feather, earns the player a small dance performance, with a special dance if they have caught a rainbow feather. After Pavé has danced, he will give the player a piece of furniture from the Pavé Series.
There is also a new game which involves the player guessing what way the villager will turn their head, by doing that at the exact same time.
Furniture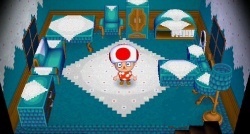 Once the player gives Pavé the candy he always demands 3 pieces and he will give them an item. Sometimes they will receive the same item more than once. However, the upside is that all of his furniture is worth 12,000 Bells, except when noted.
The Pave clock was distributed via WiiConnect24 during the Festivale 2010 event. It is not an official item of the Pavé series and is no longer available to download.
Pavé Series:
Pavé Bed
Pavé Bookshelf
Pavé Bureau
Pavé Chair
Pavé Chest
Pavé Closet
Pavé End Table
Pavé Floor (1,800 Bells)
Pavé Lamp
Pavé Sofa
Pavé Table
Pavé Wall (1,800 Bells)
Pavé Clock (Distributed Item only, February 2010)
Tips and Tricks
Below are some useful tips and tricks when trading candy for Pavé's furniture.
Storage
Mail storage - The player can place candy in letters and keep them in your mail storage. One can also place the candy inside of furniture, like wardrobes or drawers.
Wagers
Make sure to leave your tools and special items in your house or else the villagers might try to take them from you. The alternative is to carry old clothes and stuff that you don't want in your pockets, so if you lose the game you won't be losing anything important. To use this trick, you must stock up your money along with your items in a dresser or on the floor in your house. A tip is to collect some shells and grab some fruit, then when you talk to the villagers, instead of asking for 500 bells or valuable items they will ask for whatever fruit you have carrying around with you. This way, you don't have any worthy items to risk during the Festivale event. Whatever candy you earn, store in messages or go back to your house and lay them down somewhere so villagers won't ask for any.
Look
Villagers will compliment you and give you a free piece of candy the first time you see them that day if you are wearing a "look". If you put on a look later they WILL NOT give you candy.
Trivia
Festivale is based upon the real-world holiday, Carnival, a festival occurring in February just before Lent.