Louie
マッスル Muscle

"It's all about the muscle."

| | | |
| --- | --- | --- |
| Gender | Personality | Species |
| Male | Jock | Gorilla |

Birthday
March 26th (Aries)
Initial phrase
toots
odelay (HHD)
Initial clothes
Lil Bro's shirt (AF-AFe+)
Big Bro's Tee (HHD)
Home request
A 30th-anniversary party!
Appearances
AF, AF+, AC, AFe+, HHD
Regional names
Lou
Lou
Louie (マッスル,, Muscle?) is a jock gorilla villager in the Animal Crossing series. His Japanese name is a reference to jock villagers talking about their muscles. He was one of many villagers to be cut from Wild World to City Folk, and he wouldn't make another appearance until Happy Home Designer as a free DLC download at the games' launch in Europe (October 2nd, 2015)[1], with exclusive items, but will possibly be available worldwide. He will also wear the Big Bro's shirt this time around. He was available for North America starting September 26 via Nintendo Zone, and was available via Spotpass on October 6th. He was available to download again in Japan from January 5th to 31st.[2]
Appearance
He is a brown ape who resembles Donkey Kong. He initially wears the Lil Bro's shirt, which refers to Luigi, Mario's younger brother. He carries around a daisy umbrella while it's raining.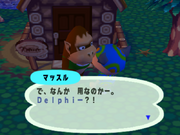 Personality
Below is a brief description of the jock personality. For more information, click here.
Jock villagers usually appear to have a large amount of energy and are very interested in sports and bodybuilding. They can also be egotistical at times and are somewhat dense. As a jock villager, Louie will be very interested in his
hobby
and will often ask to compete with the
player
to see who can catch a certain fish or bug the fastest. Louie will easily get along with
peppy
villagers, who share similar traits. However, he will find it difficult to converse with
lazy
,
snooty
, and
cranky
villagers, as he will often not understand the conversation.
House
In Animal Crossing and Animal Forest e+, Louie's house has many drums and Cabin Series items. His house also contains a Totem Pole, and other random objects fitting into the Cabin theme.
Trivia
Louie's name is based off of Luigi, also represented by his initial outfit, the Lil Bro's Shirt.
Odd enough, his counterpart, Alfonso, continued appearing in the later Animal Crossing games, while Louie was removed for unknown reasons. Louie would return in Happy Home Designer, but instead of the Lil Bro's Shirt, he is wearing a Big Bro Shirt like Alfonso.
He wasn't the only Nintendo character named Louie with the name taken from Luigi. Louie from Pikmin 2 did as well.
In Happy Home Designer, his home request is a "30th-anniversary party", yet another reference to Mario and Luigi, since 2015 is the 30th year since their first appearance, and 2015 being the year of Happy Home Designer's release.
He has the same catchphrase as Yodel in Animal Crossing: Happy Home Designer.
References
This villager article is a stub. You can help the Animal Crossing Wiki by expanding it
.