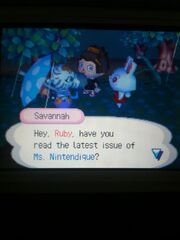 Magazines are one of the unseen items in the Animal Crossing series, first making a debut in Wild World.
Ms. Nintendique
Ms. Nintendique is a magazine read by all female villagers from youngest to oldest, peppy to snooty in Wild World. It appears to be a fashion magazine, as the villagers who reference it reveal. 
Captain Paperweight
Captain Paperweight is a unseen magazine read by lazy villagers in City Folk. They will mention it in Animal Crossing: City Folk as a superhero comic.
Chillin' Magazine
Chillin' Magazine is a magazine read by lazy villagers in Wild World. They often talk about how they save pages because all the magazines take up too much room. Chillin' Magazine revolves around couches, therefore reflecting the 'lazy' personality.
The <Item> Scandal
The <Item> Scandal magazine is an unseen gossip series in New Leaf that is occasionally mentioned by villagers when talked to within their own house.
Business Strategies for Dolts
Business Strategies for Dolts is a magazine spoken of by villagers while they are sitting in New Leaf.
Ad blocker interference detected!
Wikia is a free-to-use site that makes money from advertising. We have a modified experience for viewers using ad blockers

Wikia is not accessible if you've made further modifications. Remove the custom ad blocker rule(s) and the page will load as expected.