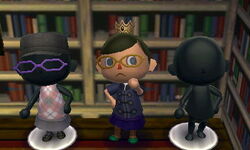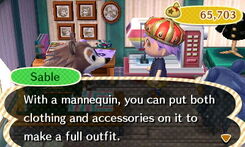 A Mannequin is a special type of furniture item introduced in New Leaf that can be dressed to display an entire set of clothing.
An outfit on a mannequin can consist of a headgear, accessory (if the headgear is not a helmet), top, bottoms, legwear, and footwear. In addition to storing an outfit, the player can switch into the clothing displayed to wear it. Outfits stored on the mannequin will remain on its body, even when the player places it in their pockets. Unlike other items, the player cannot drop the mannequin onto the ground, which means a mannequin cannot be traded. It cannot be put in a letter either.
How to Get Mannequins
There are a total of four mannequins in New Leaf, and they are obtained from each of the sisters from the Able Sisters shop and Gracie.
Ad blocker interference detected!
Wikia is a free-to-use site that makes money from advertising. We have a modified experience for viewers using ad blockers

Wikia is not accessible if you've made further modifications. Remove the custom ad blocker rule(s) and the page will load as expected.