Animal Crossing merchandise has been available since the very beginning of the Animal Crossing series. There is a wide variety of items, from plush toys, figurines, lunch boxes and many more. Many of the plush toys are made by Tomy Ltd., a children's entertainment and toy manufacturer based in Japan,[1] who have also supplied fans of Nintendo games with plush toys of the popular Nintendogs series.
Types of Merchandise
There is a wide range of Animal Crossing merchandise available. Below is a list of a few different types: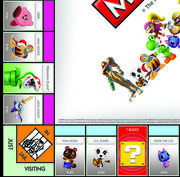 Action figures
Cell phone cases
Charms
Clothing
Dolls
Figurines
Key chains
Mugs
Playing cards
Plush dolls
Posters
Purses
Stickers
T-Shirts
Trading cards
Wii projectors
Animal Crossing has also appeared in third party products, such as Monopoly's 2010 Nintendo Collector's Edition which features Rosie, K.K. Slider and Tom Nook, all of whom appear alongside other famous Nintendo characters like Mario.
Gallery
Below are a few examples of the merchandise available.
References